Parachute Just Launched An Entirely New Category — & It Doesn't Involve Bedding
PARACHUTE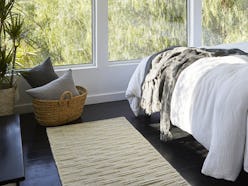 Parachute is one of the buzziest names in the home space right now, and it's expanded its offerings once again, introducing a brand-new category: rugs. Yes, Parachute's new rugs are here and they're just what your floors have been missing. Now, not only will you be able to slip out from under the brand's luxe sheets, but you can have your feet land on one of its newest woven pieces.
Best known for its bedding and bath essentials, Parachute has grown to include everything from décor and furniture to mattresses, thus making the release of rugs a natural next step. And, if you already count yourself as a fan of Parachute's products, you'll be eager to bring one of the new versatile floor coverings into your home. After all, a rug is the backbone of a room, supporting and pulling the other pieces of the space together.
The collection is made up of four neutral styles that are all available in several sizes, thus providing you with the opportunity to make them work for both large and small spaces. Each piece is handwoven by artisans in Panipat, India, where Parachute has partnered with a heritage textile manufacturer that's working to preserve centuries-old craftsmanship and is committed to environmental sustainability. The area rugs feature 100 percent natural fibers, including a blend of cotton and wool. Additionally, the rugs are free of harmful chemicals or synthetic materials.
The first style you should take a peek at is the Braided Wool Rug, which runs from $289 to $1,349. Offered in three sizes in both ivory and a dark gray, it's described by the brand as a "sweater for your floor," and the description is entirely accurate. Not only will the cozy-looking rug be a treat for your feet, but it'll provide dimension and a warmer feel to your living room.
If you're looking for a patterned style, check out the geometric design of the Medallion Wool Kilim, which you can shop in four sizes, with pricing starting at $89 and going up to $429. Or, you may find the tassel details on the Striped Flatweave Rug more to your liking. This style also has an entry price point of $89, but offers five different dimensions with the largest being an 8'x10' for $849.
Rounding out the group is the Textured Wool Rug, which ranges in price from $129 to $1,349, with a tufted design that'll be a welcome addition to any space. If you don't have enough space in your bedroom for a full-size rug, think about adding this style in a 2'x3' size next to your bed to avoid the cold floor first thing in the morning.
Breathe new life into a room ahead of the change of season with one (or more) of Parachute's new rugs. Continue on to see and shop the styles below.