The New Royal Baby Might Share His Name With *Another* Little Royal
WPA Pool/Getty Images Entertainment/Getty Images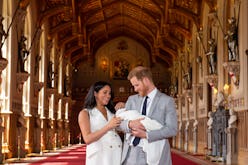 Meghan Markle and Prince Harry's son's name has just been revealed and it's pretty much the cutest thing you've ever heard. Archie is no doubt going to become the most popular baby name of the year, thanks to the Windsor clan's newest addition. Aside from being flat-out adorable, there's also plenty of meaning behind the royal baby's name.
Kensington Palace made the announcement on the couple's behalf via the Duke and Duchess of Sussex's new Instagram account (you knew @SussexRoyal would come in handy for baby updates).
The photo was posted just hours after they had their first photo op as a family of three in Windsor Castle's St. George's Hall. It features a smiling 93-year-old Queen Elizabeth and Markle's mother, Doria Ragland, leaned over the two-day-old baby for a closer look while Prince Harry stands beside his beloved grandfather, Prince Philip, in the back.
"The Duke and Duchess of Sussex are pleased to announce they have named their first born child," the caption says. Archie Harrison Mountbatten-Windsor: not what people were expecting at all.
Before the sex of the royal baby was revealed, royal fans placed bets on names like Lily (after the Queen's nickname, Lilibet), Philip, or Charles (after the baby's grandfathers). Instead, Markle and Prince Harry went left field, like they always do.
Archie — holding a variety of meanings from "bold" to "truly brave" across cultures — is traditionally short for Archibald, but, as you know, this duchess isn't really the type to follow tradition.
Archie is also commonly used as a nickname for Arthur (now we're getting somewhere with the real meaning). Arthur has been a traditional name in the royal family for centuries — Queen Victoria's son, Prince Arthur, King George VI's middle name, and also the middle name of one-year-old Prince Louis.
In fact, Archie was the nickname Prince George recently gave to himself when a stranger whose dog he was petting asked his name. Coincidence? In any case, Markle did end up sticking (loosely) to tradition in her own unconventional way.
The baby's middle name, Harrison, is presumably a way to incorporate Prince Harry's name, and as for the surname, it was originally unclear whether he would have one at all.
According to the royals' official website, Mountbatten-Windsor would be the name all children of Queen Elizabeth (who doesn't have a last name, herself) would be given. Mountbatten stems from the name Prince Philip was given after he became naturalised in 1947 and Windsor is "the surname used by all the male and unmarried female descendants of George V," the website says.
So there you have it: a three-part name rooted in tradition but made super-modern, Markle style. You can rely on this duchess to be churning out some of the coolest names in royal family history.