Meghan Markle's Baby Could Have The Chicest Last Name
WPA Pool/Getty Images Entertainment/Getty Images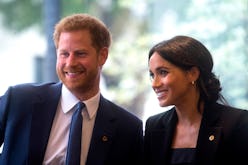 If you've been experiencing withdrawals since the royal wedding in May, the recent news of the Duke and Duchess of Sussex's new baby (as well as Princess Eugenie's nuptials over the weekend) probably served as a satisfying shot of regal adrenaline. And, in addition to the due date (spring 2019), celeb reactions, and the stunning maternity looks to come, Meghan Markle's baby's last name is also a hot topic of conversation right now.
While it may seem premature to toss around surname options just hours after a pregnancy announcement, it's not entirely surprising when you consider the Royal family's interesting approach to an otherwise mundane concept.
According to The Royal Household's official website, members of the royal family generally do not use surnames at all. In fact, before 1917, "members of the British Royal Family had no surname, but only the name of the house or dynasty to which they belonged." This was obviously not a practical tradition to hold over time, as members need both first and last names when they enroll in school or the military.
In recent years, the family has taken to making their assigned territories within their royal titles (i.e. Duke and Duchess of Cambridge, Duke and Duchess of Sussex, Prince of Wales, etc.) the last names of their offspring in specific circumstances (listed above). For instance, at school, Prince George is known as George Cambridge. His father and uncle, Prince William and Prince Harry were known as William and Harry Wales in school and when they served in the military. For this reason, a popular theory is that, come spring, Markle and Prince Harry's latest addition will take the last name Sussex — which basically gives some other famous British last names, like Bond and Beckham, a run for their money.
Another very valid and interesting twist in the great surname debate is her majesty's official stake in the game. According to the royal website, in 1960, Queen Elizabeth and The Duke of Edinburgh decided to distinguish their direct descendants (until then, the surname Windsor was used by all the male and unmarried female descendants of George V). According to the site: "It was therefore declared in the Privy Council that The Queen's descendants, other than those with the style of Royal Highness and the title of Prince/Princess, or female descendants who marry, would carry the name of Mountbatten-Windsor." (Since Prince William and Kate Middleton have not chosen to adopt the official surname, there's a chance Prince Harry and Meghan Markle will follow suit and choose Sussex to distinguish themselves.)
Either way, there you have it: Sussex and Mountbatten-Windsor. These are the two potential options for the royal bundle of joy. Despite the fact that he or she won't be showing face for another six months or so, these potential last names make for an already sophisticated and chic welcome.
Now, judging from the Duke and Duchess' track record of taking a unique stance on most royal traditions, it's very possible these surnames will not be used or even considered — but here's hoping they're at least in the running. They're so good.