Meghan Markle & Prince Harry Just Officially Joined Instagram
Pool/Getty Images Entertainment/Getty Images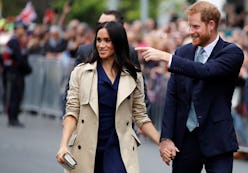 Meghan Markle might be on maternity leave but she's busier than ever, it seems. Not only are the Sussex royals moving out of Kensington Palace — announced just two weeks ago — but they've apparently been planning a social media strategy of their own as well. Prince Harry and Meghan Markle's joint Instagram account is yet another example of the couple's quest for more independence.
Between preparing for the baby's arrival and unpacking their things at Frogmore Cottage, the royal couple has somehow found the time to create a new social media account. Markle and Prince Harry posted their first photo to the @SussexRoyal Instagram on Tues.
It was a series of photos, actually, starting with Their Royal Highnesses' combined monogram and featuring pictures of the couple's recent trips to Australia, New Zealand, Morocco, and beyond.
"Welcome to our official Instagram," they wrote in the caption. "We look forward to sharing the work that drives us, the causes we support, important announcements, and the opportunity to shine a light on key issues. We thank you for your support, and welcome you to @SussexRoyal," signed "Harry & Meghan."
Only an hour after the first photo was posted, the Duke and Duchess' Instagram had acquired nearly a half million followers.
News of the couple (and all royal family members, for that matter) has historically been shared via Kensington Palace's social media platforms. The palace took to Instagram to welcome them on Tues., too, posting a photo of Markle and Prince Harry from the Cirque du Soleil premiere in Jan.
The caption of Kensington Palace's post said that all news of the Duke and Duchess of Cambridge — Prince William and Kate Middleton, that is — would continue to be shared on @KensingtonRoyal.
It's no surprise that Markle and Prince Harry have finally broken away from the general royal Instagram account. They've just recently announced that they're moving out of Kensington Palace, which they've been sharing with Middleton and Prince William.
The Queen (who just launched a personal Instagram account herself) reportedly approved the move right after their May wedding. While the couple's staff will be based at Buckingham Palace, the Duke and Duchess of Sussex will be living separately along with the baby (which is now due any day, by the way).
Let's all just hope the tiny new royal will hold plenty of space on the couple's new Instagram account.