The Unexpected Wedding Nail Colors Everyone Will Be Wearing This Spring
WPA Pool/Getty Images Entertainment/Getty Images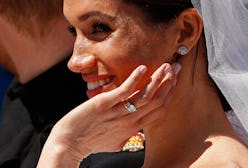 Last May, Meghan Markle's choice to wear Essie's Ballet Slippers shade to her royal wedding made headlines. And OK, which of the many nail colors for spring weddings you land on may not be covered by the press — but there's no reason you shouldn't still think long and hard about which shade you want on your big day. Sure, there's the fact that you'll probably be looking at photos from your wedding, well, forever. But beyond that, after all that planning, any bride-to-be really deserves a trip to the salon. And if you aren't feeling the Duchess of Sussex's traditionally neutral pink nail, here are a few of the photograph-ready shades everyone will be wearing this spring.
Something (Mostly) Blue
Incorporating your something blue via your nails has been a trend for a minute. However, navy can be too close to black, and a true blue may be too much of a pop for the big day. If you're debating over which blue to pick, try out one that's barely blue at all. Something pale, like sundays L. 03 shade will show up just enough to let onlookers see you're tying the tradition into your day. There are always more purplish and dusty shades, too, that won't feel overly bold — like the gorgeous Aire shade from ZOYA's Spring 2019 collection.
'90s Nails
Whether your style is more Sex and the City than Buffy the Vampire Slayer, Etsy's 2019 wedding trend guide claims the '90s are going to inspire this year's wedding fashion in a big way. And while you may use that as an excuse to go fashionably bold on your big day — à la The Nanny's Fran Fine — the '90s also included plenty of subtler shades. Pantone's list of '90s color trends serves as a good starting ground for the neutral-loving wedding goer; "Overcast", "Lead Gray", and even the aptly-named "Oasis" would be beautiful manicure shades. Still set on something grungier? According to Romper, Chanel's Vamp nail polish was a best-seller back in the not-so-distant day — and the cult color really is dramatic enough for its name.
Florals For Spring
Filling the esteemed role of wedding guest this go-around? That still calls for a trip to the salon, or at least a DIY nail routine at home. For inspiration on which color to pick, look no further than your own backyard. While florals for spring may not be groundbreaking, translating the petals and stems onto your own fingertips is. (It also may be impossible to not want lavender-hued nails after looking at Chillhouse's Spring 2019 look book.)
Golden Hour
You still can get in on the trend-spotting brand's color wisdom, too — sans any '90s throwbacks. Pantone teamed up with WeddingWire to release a 2019 Wedding Color Palettes guide, and it deserves to be bookmarked by anyone planning for their big day, upcoming manicure or not. Amongst the swoon-worthy palettes is one dubbed Golden Hour, a collection of organic, bronzed shades. Choose one of the paler neutrals if you're just attending the celebration, or one of the richer shades like Copper if it's your big day.