ZOYA's Newest Nail Polish Collection Is The Perfect Addition To Your Transitional-Weather Wardrobe
Fernanda Calfat/Getty Images Entertainment/Getty Images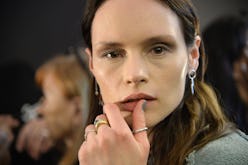 There is more to Innocence — ZOYA's Spring 2019 nail polish collection — than meets the eye. With six shades retailing at $10 a pop, the collection may seem like your basic spring edit at first: All the necessary glitter and pastels are accounted for. However, you'll quickly realize ZOYA put some serious thought into this nail collection. Instead of just focusing on the colors shoppers want to wear once the weather warms up, ZOYA also included darker, edgier transition shades, creating a collection that purposefully goes from darkest shades to lightest.
Innocence begins with the nail color Theo. According to ZOYA's website, Theo was inspired by thunderstorms — something that's apparent from the chunky silver flakies and dark blue glitter scattered throughout the gray base. The nearly opaque glitter shade looks like a puddle of rain on pavement when it's applied to your nails (which is actually incredibly pretty).
After that comes the softer gray shade Fern, then Aire and Evette, two creamy, muted jewel tones. Finally, spring arrives for the collection with Agnes, a warm blush, and Birch, a soft lavender nail color that includes "greige" tones (decor slang for beige and gray). So, thanks to the Innocence collection, you won't need to stand at your manicurist's color wall debating between dark and light shades throughout spring. You're set until summer arrives — and beyond, too, since the collection's jewel tones are perfect for beach adventures.
Obviously, you may already know that ZOYA's Fern shade is one of the collection's stand-out colors. It was used as a base for the surprisingly subtle graphic nail art at Nicole Miller's Fall/Winter 2019 show. ZOYA calls the shade a "balanced sage" — which is pretty much the perfect description for the unexpected greenish gray. Fern also features a pearlescent finish that gives the classic neutral more depth (and a little bit more fun).
Naomi Gonzalez, the ZOYA Lead Manicurist who created the fashion show's look, used the shade as a way to tell a (very relatable) story. "This look is inspired by the New York girl who is trying to find balance in New York City life — keeping a talisman of good luck on her nails and checking her horoscope every morning to navigate her busy New York life," reads a quote by Gonzalez on ZOYA's website. So if you're in need of balance this spring, maybe Fern is just the shade for you.
Or, go ahead and grab each shade. The entire ZOYA Innocence collection is below.