According To Miu Miu, Headbands Aren't Going Anywhere For Spring
Courtesy of Miu Miu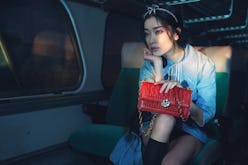 Whether it be a new season or a whole new year, the style set always turns to fashion's biggest brands for the tone that's about to be set for the months ahead. And while major fashion houses surely make a splash by debuting soon-to-be major clothing trends, it's sometimes the more subtle finishing touches that catch everyone's attention. Such is the case for the just-dropped Miu Miu Spring Summer campaign, which just cemented the current headband trend as a spring 2019 mainstay.
It's often overwhelmingly clear when a clothing trend is going to come and go quickly, or stick around for the long haul. So, it's pretty simple to surmise which are worth investing in (heads up, you're gonna want some tie-dye pieces), and which you can wait out as it passes through. The same can't always be said for accessories, considering the seemingly countless variations to choose from, and how fast a style's fandom can form and then just as quickly fizzle out.
So when a major brand endorses an accessory that's been enjoying a recent uptick in popularity, it's safe to assume it'll stick around for the season ahead — and that it's time for you to give it a try. Case in point: Miu Miu's just-dropped Spring Summer 2019 print campaign, which places one currently-trending hair accessory distinctly top of mind (and head).
The campaign, captured by David Sims and featuring talents Du Juan, Juliette Lewis, Lola Leon, Maya Hawke and Zazie Beetz, is focused on transportation and the decidedly unique, personal state of being that occurs while in-transit between two locations. "Neither arriving nor departing, these images celebrate the notion of simply being — the geography hazy, the timing uncertain, they present a universal, everywhere and anytime," the press release states.
Considering the timeless mood that the brand is musing on for the campaign, and the fact that nearly every image includes Miu Miu's chosen talent wearing a headband atop her tresses, you can easily conclude that the accessory is here to stay — and it can apparently be worn anytime, anywhere.
This is great news if you've already invested in a few of the feminine hair pieces, but even better if you've yet to give the tress-tamer a chance. And leave behind all former notions of the accessory being just for those whose outfits trend preppy, because Miu Miu's take on headbands is proof that they're just as wearable with an edgy take on a feminine ensemble. Look for satin, leather, or velvet iterations for a luxe vibe, or make like Miu Miu and shop the brand's crystal encrusted and pearl-adorned versions for a glam look.
Keep scrolling for some of Miu Miu's most eye-catching headbands, below, and prepare to wear the style on repeat all season.