The H&M HOME X Jonathan Adler Collaboration Is A Maximalist's Dream
Courtesy of H&M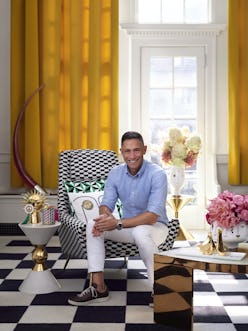 Oftentimes, global fashion brands like H&M become so well known for their clothes offerings, that other items on the menu get overshadowed. Such can be the case for the Swedish label's home category, which has flown under the radar for years now — and shouldn't. That said, H&M HOME's first designer collaboration with Jonathan Adler aims to shine a light on the affordable retailer's potential for greatness in the home space.
Yes, come Nov. 14, H&M's partnership with the veteran designer, potter, and author will officially hit stores — and from the sound and look of it, this line aims to make quite a splash. Despite the still-burning trend toward neutrals and minimalistic design, Adler's magic touch promises glamour and all the color. According to a press release from H&M, the new home collection, — which will include sculptures, vases, trays, boxes, mugs, candles, cushions, and throws — will be "a bold and irreverent" take on interior decor.
One would expect nothing less of the New York designer, who's been a staple in the decor world for more than 25 years. Since 1993, Adler has lived by an anti-minimalist manifesto that preaches messaging like, "We believe colors can't clash" and "We believe minimalism is a bummer." According to Evelina Kravaev Söderberg, H&M HOME's Head of Design and Creative, this unapologetic and eclectic take on style and design is exactly what made Adler such a worthy option for the category's inaugural collaboration. "Our first design collaboration is a wonderful opportunity to continue championing personal style in the home and we could not have found a better partner than Jonathan Adler," says Kravaev in a press release. "His boundless energy and passion for irreverence is infused in every piece of this collection and we're so excited to be offering our customers a glimpse into the Jonathan Adler world."
While official imagery and pricing surrounding the new collection has not been released yet, a promo video from H&M HOME is available that offers a sneak peek into the goodness that is to come. The minute-long snippet stars Adler, who glides through a colorfully decorated living room, revealing festive treasures from the new installment: jewel-toned tasseled ornaments, ivory, human-shaped candlestick holders, a third-eye-themed vase, and a "naughty/nice" pillow to name a few. "People think of me as a maximalist, but I'm actually a minimalist," says Adler in the video below. "Whatever I design, whether it's a pot, sofa, or a room, I try to strip it down to the most essential elements. And I think the H&M HOME collaboration is just that."