This Alternative Approach To Picking Home Decor Has Nothing To Do With Aesthetics
united photo studio/Shutterstock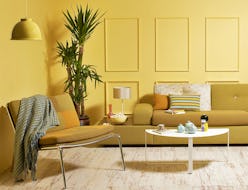 There are a lot of elements to consider if you're thinking of revamping your living room. But when it comes to setting a tone, there's arguably no better tool to use than color. That said, for those who aren't professional decorators, it can be a bit overwhelming to select the shades that suit your desired mood. Just a quick scan of the swatches in your local hardware store can be an informational overload. However, learning how to choose a color scheme doesn't have to be so intimidating. With a few expert tips in mind, you'll be able lighten up a space that not only looks chic, but also nails the vibe you're trying to achieve.
Whether it's with your walls, furniture, or decorative accessories, there are a ton of opportunities in your living room to play with color. And while for some, decor is a fun way to try out the trends, others want this selection to reflect something a bit more personal or customized. Perhaps that's why it can seem like such a big decision.
Designers and decorators rely on a major resource to consult for colors that suit a space — and it's available to you as well. Pantone is the leading color authority, and while its coveted color of the year announcement dictates trends you see everywhere from the runway to the aisle of your favorite home goods store, it's also a place where you can seek out shades that you'll want to live with for years to come.
As for using color for your living room, the Pantone Institute's Vice-President Laurie Pressman notes that first and foremost, you need to have a bigger picture in mind. "As [Pantone's Executive Director] Leatrice Eiseman highlights in her book, Colors For Your Every Mood, color is the single most important design element that reflect mood and style," she says. "Each color conveys its own unique and meaning and that is one of the most important things to keep in mind when selecting colors for any environment."
Brushing up on color intelligence via Pantone is one way to help guide you to the scheme that's right for you and your space, but thankfully Pressman also has a few simple pointers to offer that can make the process even simpler. Ahead, find her three best tips for selecting colors that will make your living room a little more sexy, soothing, grounding, or whatever other goal you have in mind.
Know Your Character
Pressman suggests that a good place to start is by embracing the room's existing character. "For the best color cohesion, you need to work with the space and not against it," she explains. "Colors chosen should fit the character of the home. Earthy warm tones that might work well in a craftsman environment no matter the coast may not fit a sleek, contemporary or urban space." If you're not sure, do a little research to see what schemes are traditional for your style of home and go from there.
Favor Feelings Over Trends
"Your home is an expression of who you are, so while it is important to be aware of trends in color, the most important thing to consider is that what you choose can provide you with the feelings you are looking for," offers Pressman. "For example, if you are looking to create a room that is lighthearted and playful, paint box and jelly bean colors can do the trick, while colors connected to the sky and sea are ideal for creating tranquility, and warm earth tones suggest a more nurturing tone."
Check Your Temperature
Looking to keep your space bright while still warm and welcoming? Pressman notes that even when you're sticking to a white palette, mixing tints and tones will keep it from from feeling too sterile. "Don't go too heavy on bright whites unless your goal is create coldness," she says. "Off-whites and creamy whites can still provide you with that same minimalist feeling and will carry a bit more warmth."