We Put Essie & OPI To The Test — Here's Which Brand Lasts Longer
@laurencaruso_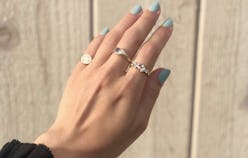 A couple weeks ago, Lauren Caruso, Site Director of, well, this very site, blended her background in beauty with her interest in investigative journalism and embarked on an experiment for the ages: a two-tone manicure designed to reveal the real Essie vs. OPI difference. On one hand — the left, to be exact — was OPI's Sun, Sea, and Sand in My Pants. On the right, Essie's Pretty Edgy. "The Essie polish chipped almost immediately and continued to do so throughout the six days I had it on," she says. "It was on my right hand and I'm a righty, so I figured I should re-run the experiment."
Next up was Essie's Bon Boy-age on the left, with OPI's Don't Talk Bach To Me on the right. "It's been five days, and they're both still pretty intact, so it could be color-specific," Caruso shares. Obviously, the matter demands a deeper dive: What factors determine how soon a polish will chip? What ingredients differentiate the Essie and OPI formulas? And, of course, which do the pros prefer?
"The integrity of nail polish is determined by film left after the solvents evaporate during drying, and the plasticizers that impart some flexibility to the film so that it isn't too brittle," Kelly Dobos, a cosmetic chemist with Sun Chemical, tells The Zoe Report. In layman's terms: Polish will chip if it doesn't have a flexible-but-firm finish. Typically, this effect is achieved through the use of nitrocellulose, a film-forming polymer. "Additional resins can be blended with the nitrocellulose to further improve adhesion to the nail and the toughness of the film," Dobos explains.
After having a look at both brands' basic offerings — Essie Nail Polish and OPI Classic Nail Lacquer — Dobos concludes that Essie, theoretically, should last longer. "Overall the two base formulations are similar, however the Essie formulation contains an additional resin (Colophonium/Rosin/Colophane), which I surmise increases the length of wear," the cosmetic chemist says.
Interestingly enough, professional manicurists have mixed opinions. "I believe the OPI polishes last a bit longer, especially the gel formulas," Hang Nguyen, a celebrity manicurist who works with Gabrielle Union and Octavia Spencer, tells TZR. Plus, the brand has a great spray to apply after the top coat, Jackie Saulsbery, a nail artist who counts Adele among her clients, adds in an email to The Zoe Report. "And the colors are to die for."
Alicia Tortello, an editorial manicurist, says both brands offer more longevity than most others… but if she had to choose, Essie wins. "Generally I find those two to be the winners when it comes to lasting power, especially Essie's Gel Couture line," she tells TZR. The Gel Couture formula seems to be a pro favorite across the board. "It's a hybrid polish that has a longer wear, but still removes like a regular polish," Carla Hatler, the owner of Austin's Lacquer salon, tells The Zoe Report. "OPI has Infinite Shine, which is comparable, but nothing beats the wear of Essie Gel Couture."
That being said, there are many factors outside of the formulation that determine how long your polish will last — chief among them, application technique. "OPI has a thick base, so when applying it, you have to swipe the brush because it holds a lot of polish," Saulsbery says. "With Essie, you have to let the first coat dry for five minutes, then apply the second, then follow the same steps when you apply the top coat."
Other considerations include the use of a base coat (do it, pros say), the number of color coats applied (two to three is best), and of course, what your hands go through on a day-to-day basis. (Are you a recreational gardener? A woodworker? Then all kinds of chips are on the horizon.)
Luckily, if you want to run the experiment for yourself, multi-tonal manis are decidedly trendy right now. Do one brand per hand, or alternate every other finger — it's all in the name of science, after all. Ahead, shop the coordinating colors to get you started.
Shop Essie & OPI