Gwyneth Paltrow's Manicurist Swears By This $28 Topcoat — & You Should, Too
Imaxtree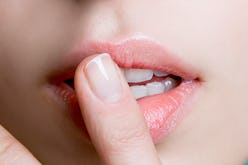 There's truly nothing worse than waiting what feels like eons for your manicure to dry only for it to chip it less than 24 hours later. Sure, you could go the gel route and skip the smudging all together (though, you risk making your nails weak or brittle) — or you could invest in one of the best nail polish top coats out there. Even better: They don't just help your manicure last for days on end, but they add megawatt shine, too.
But if you've ever tried replicating your on salon-worthy manicure at home, you may have ended up with sticky, gooey fingertips that smears your color instead of helping it shine. "Some top coats are actually meant to be sticky for maximum adhesion," Michelle Saunders, a celebrity nail artist who counts Kate Beckinsale and Taraji P. Henson among clients, tells TZR. "I like to paint top coats with slow and even strokes because wherever you apply it, that's where the polish will adhere. Take your time. Some top coats take longer to dry especially if they are opaque."
The key to perfect coverage, according to international nail artist international nail artist Tracylee Percival, is the number of coats that you use. "Apply two thin coats, being sure to swipe over the free edge of the nail to seal the edge and ensure polish longevity," she says. "Let each coat dry in between. Then, remove any nail polish that may have gotten on the skin surrounding the nail prior to the top coat. This will allow the top coat to seal the color properly onto the nail."
Ahead, check out the celebrity manicurist-approved clear coats that ensure the glossiest fingertips possible.