The Cheapest Places To Travel To If You're Looking For A Holiday Escape
Daniel Avram/Shutterstock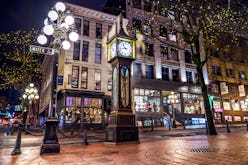 There's lots of reasons you might be looking for a holiday escape: maybe you're itching for a change of scenery, the cold weather gives you the blues, or you're seeking solace from the madness of family gatherings and work parties. Whatever the case, the good news is, you can plan a cheap getaway if you need a break from reality. Yes, you heard that right — cheap.
The secret to taking a trip on a budget is picking places that are off the beaten path or in their off season. From tropical paradises to historic towns, to unexpected winter wonderlands near and far, you can find the ambiance you're looking for at a price you can afford.
Also, it should be noted that your ideal winter escape doesn't necessarily need to be all that far away. In fact, there are plenty of places in your own backyard that will give you all the festive seasonal vibes, sans the stress.
Ahead, Matt Kepnes, founder of the travel blog Nomadic Matt, and Stephanie Bolling, travel expert at The Penny Hoarder, share their favorite destinations to visit on a dime (plus some bonus insider tips). Now, take some notes, book your tickets, and get to packing — the world is calling.
Instead Of The Bahamas ... Head To Colombia Or Puerto Rico.
"Colombia has become hugely popular with the backpacker and digital nomad crowd and it's incredibly budget-friendly," explains Kepnes. "Cities like Medellín are quite safe, and your dollar will go far. Plus, it's a good hub for visiting other countries nearby."
He adds that Puerto Rico offers the same kind of escape, and for American travelers, it's not too far. "While parts of the island are still recovering from the hurricane, the tourism industry is alive and well," he says. "And since tourism is down, prices are down, too. So this is not only a great budget destination but you'd also be supporting the local economy, which is a win-win."
Instead Of Sweden Or Iceland ... Try Canada
"If you're looking to embrace the cold, chances are countries like Sweden or Iceland come to mind," Kepnes says. "Unfortunately, they aren't the most budget-friendly places. But there is a much cheaper (and closer) alternative: Canada. If you want winter sports, outdoor fun, and a chance to see the Northern Lights then just visit our northernly neighbor. With our dollar much stronger than theirs, you'll also be able to get a lot of value from your trip — much more so than visiting Scandinavia!"
Instead Of The Czech Republic Or Belgium ... Head To Poland or Ukraine
Kepnes says that Prague and Bruges "often come to mind when you think of cozy holiday markets and seasonal getaways." However, you can find a similar ambiance in less-touristy places.
"Poland also has great Christmas markets in Warsaw and Krakow for a fraction of the price," share Kepnes. "And to get even further off the beaten trail, Ukraine is right next door. Kiev will be cold in the winter, but it's incredibly cheap and will give you a unique winter getaway, unlike anything you'll find in Western Europe."
Instead Of Leaving The Country ... Stay Closer To Home
"Staying close to the U.S. will save travelers on international airfare," says Bolling. She suggests these unconventional destinations, which haven't been spoiled by high prices or crowds:
Gulf Shores, Alabama: "Enjoy the benefits of the Florida Panhandle beaches without the crowds and price tag of actually being in Florida." (Note: It might be too cool for sunbathing this time of year, but you can still savor gorgeous beach views.)
Sun Valley, Idaho: "Hit the slopes without the hordes of skiers and steep prices of popular ski spots in Colorado and Utah. Not a skier? Take a sleigh ride, see live music or an art show."
Gatlinburg, Tennessee: "Gatlinburg offers year-round outdoor experiences from skiing and snowboarding in the winter to golf, fishing, whitewater rafting, and hiking all other seasons."
Weeki Wachee, Florida: "What's more off-the-beaten path than mermaids? See mermaids perform in a natural spring at Weeki Wachee State Park, or take a glass-bottom boat ride to see manatees in the Weeki Wachee River."
Galveston Island, Texas: "Beaches, carnival rides, bike rides along the seawall, a historic downtown, and live jazz are a few things you'll find on this affordable barrier island."
Deadwood, South Dakota: "It's like the Gold Rush never left this small, historically landmarked town. Explore old gold mines, casinos, museums, or take a scenic drive and end in the Badlands or at Mount Rushmore nearby."
Florence, Oregon: "This picturesque West Coast gem is home to a breathtaking coastline perfect for road trips, picnics, and outdoor activities. Capture views of the Siuslaw Bridge, the Heceta Head Lighthouse or the Sea Lion Caves on a trip to one of Oregon's many lovely small towns."
Natchez, Mississippi: "This small Mississippi River town is way off the beaten path. Tour historic antebellum mansions and nosh on Southern home cooking without the fuss of big city tourism."
Other Tips For Traveling On The Cheap
Know Where To Look: "If I'm looking for a specific destination, I'll use Skyscanner and Momondo for finding cheap flights," Kepnes says. "If I'm more flexible and just looking for a great deal, I'll check in with a budget site like Scott's Cheap Flights. They comb the internet for the best deals and send them right to your inbox, so if you're just happy going anywhere on a budget, then this is a great way to find cheap flights or get new inspiration."
Earn & Cash In On Travel Points: "If you really want to level up your winter travels, start travel hacking," Kepnes suggests. "Just by switching to a travel credit card, you'll be able to start collecting points and miles that you can use to earn free flights and hotel stays. No need for extra spending, either. You just put all your regular expenses on your card and watch the points add up. It's a great way to step up your travel game and earn yourself a free winter holiday!"
Take Advantage Of Holiday Deals: "Cyber Monday has huge discounts on travel," shares Bolling. "Snag deals on car rentals, airfare and vacation packages." Also, make sure to keep an eye out for Black Friday travel deals, too.
Plan For The Off-Season: "Consider taking a cruise just after the holidays and before Valentine's Day," recommends Bolling. "Sail the seas while everyone recoups their finances and resets after holiday travel."
Stay In-The-Know: "Follow airlines, hotels, and any preferred travel providers on social media," Bolling advises. "Get on their email lists to receive promotional deals and exclusives first. If they offer loyalty rewards, sign up for those, too. Maximize your savings and potential return on travel for future trips."