Tips On How To Get The Best Flight Deals On Black Friday
Matt Cardy/Getty Images News/Getty Images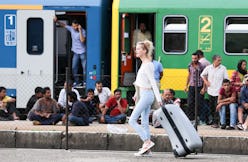 Almost as momentous as its forerunning holiday, the day after Thanksgiving has long been the day for scoring the best deals on just about everything, including vacations and trips. Yes, along with electronics and winter wares, flights and even hotel packages are at possibly the lowest rates you'll ever see them. So, whether you're planning on going home for the holidays or planning your next bucket-list adventure, Black Friday travel deals are not something to sleep on.
And while it's hard to precisely predict the details on what these discounts will actually look like come the day of reckoning, there are some key hacks and teasers you can keep in mind. Like most things in life, a little preparation can go a long way in navigating Black Friday like a seasoned professional.
Ahead, experts at Orbitz, CheapTickets, Hotwire, and Sugar & Soul were tapped to reveal some insider tips on how to find the very best deals to your dream destinations, whatever they may be. From how to properly prep for upcoming travel promotions to optimum times to book, no stone was left unturned here. After all, the more you can save, the more you can travel. So, start taking notes.
Stay In-The-Know
The first step to snagging affordable tickets and reservations is to stay in-the-know with your favorite travel sites. Melissa Postier, director of brand, PR, and social for Hotwire, suggests signing up for emails to get a heads up on upcoming promotions, as well as following sites that scope out bargains for you. "Some of the best sources for information about special travel promotions are finance and travel hack sites such as SmarterTravel or NerdWallet that commonly list round-ups of the best deals and sales for upcoming holidays and occasions," Postier explains.
What's more, she says that booking through apps — as opposed to websites — can really pay off. "Additionally, downloading the app of your favorite travel site can help unlock deals that might only be offered via their app, and it's often a more streamlined user experience, to boot," she says.
Book Through Online Travel Agencies
Orbitz, Travelocity, Hotwire ... these third party dealers are considered online travel agencies (or OTAs). Not only do they give price comparisons of airline, hotel, and car rental companies, Carey Malloy, brand director of Orbitz and CheapTickets, says that they "tend to have the best Black Friday and Cyber Monday deals."
In addition to up-front savings, many OTAs offer rewards programs that'll help you stash even more cash, especially when they offer seasonal promos. "With Orbitz Rewards, you'll earn Orbucks — which are like cash back programs — on flights, packages, and hotels that you can apply instantly at checkout to save on your hotel," Malloy explains.
Be Strategic
Rebecca Hubbell, writer and photographer of lifestyle blog Sugar & Soul, is an avid traveler with a few tricks of her own. "The best way to save on travel is to be flexible with your dates and book in the shoulder season, which is my favorite time to travel because there are fewer crowds," she says.
Her best bargain yet? "It just happened to be a an airfare error that happened to be on Cyber Monday," she recalls. "The airline quickly corrected it, but I was able to buy roundtrip airfare from Washington, DC to Santiago, Chile for $218.00."
As an additional pro tip, Hubbell shares, "There are a lot of websites out there that share these 'airfare errors' when they happen, so it's good to follow those; Travel Pirates is a popular one."
Book Adventurously
If you're a go-with-the-flow kind of adventurer, one of the cheapest ways to book a getaway is to spring for reservations where some of the info is hidden. According to Postier, this isn't as scary as it sounds. "Opaque deals (where hotel names are hidden until after booking is complete) can sometimes seem a little daunting if you've never tried them before, but they're one of the absolute best ways to squeeze in more travel or upgrade your hotel on your next trip," she explains. "While the hotel name is hidden, Hotwire provides valuable information about the hotel property, including neighborhood, star rating, hotel amenities (hello spa!), customer rating and more."
If mystery isn't your thing but you're still game to take a trip to just about anywhere, check out Flights Under $200 on Orbitz. These feature both domestic and international flights, many on budget airlines like Spirit and Frontier.
Insider Info
Of course, having a little insider info helps you grab deals while they're hot, and Molloy and Postier divulge a couple tidbits of what's to come. While the specifics are still under wraps, Malloy shares a hint to help shoppers bag a bargain. "Orbitz will have its biggest sale of the year on Black Friday, and a little insider tip: We're reserving our best pricing for travelers who book using our mobile app," she says.
As for Hotwire, Postier explains its upcoming Buy More Save More promotion, applicable on Hot Rate hotels (these are opaque hotel deals which are already offered at deeply discounted prices). "Hotwire will be offering a Black Friday deal, with an app-only sale where the offers get more rich as the booking amount increases; $10 off $100 hotel bookings, $40 off $300 hotel bookings, and $75 off $500 hotel bookings," she explains. For even more savings, wait until Cyber Monday for an additional 11 percent off.