The Pretty Top Trend Every Indie Brand Is Designing Right Now
@lisasaysgah On Instagram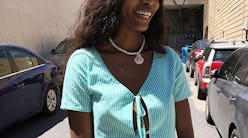 Ah, the appeal of a breezy summer blouse. You know the kind; It's crafted from a breathable fabric like linen or cotton, comes in effortless silhouettes, and always seems to be waiting for an unexpected gust of warm wind to set it afloat. This summer, one bohemian top trend is particularly popular; blouses that feature dainty straps or ties in the front. "I love a breezy tie top in the summer because it's so versatile," Esby Apparel Founder and Designer Stephanie Beard tells TZR. "You can wear it as a quick and easy layer over your swimsuit, or pair it with your favorite denim and wear into the evening, reversed with the ties in the back showing a sexy hint of your summer glow."
It's true. These tie-front tops are easy to style in a number of different ways, and pair well with the staples of your warm-weather wardrobe. And thankfully, several cult-favorite brands like Paloma Wool, Cult Gaia, and Musier Paris are offering their own cool interpretations of this all-occasions blouse. "Summer is defined by the hours you spend outdoors, and now your hours outdoors can be defined by how great you look in [a] tie top," says Lisa Buhler, Founder of Lisa Says Gah (LSG's in-house brand created a few iterations for the season). "Pair with shorts, tie your hair up with a scrunchie, and go."
Below, see how influencers are styling their tie-front tops for summer and shop the brands offering chic versions of the trend to stock up for the steamy months ahead.
Soft + Boho
Esby's breezy blouse is easily reversible, as seen above. Wear your ties in the front or back and style the top with faded blue jeans and leather sandals for a dreamy weekend BBQ look.
Pop Of Color
What better way to incorporate a pop of color and print than this minty gingham top from Lisa Says Gah? Try it with wide-leg white denim and a few eccentric accessories (think scrunchie and fruit-bedecked jewelry).
After Hours
One of the most appealing factors of this bohemian tie top trend is the fact that it translates supremely well to after hours affairs. Snag one in a sheer fabric and layer a pretty camisole underneath for an alluring party look that'll be an instant hit.
Styled With Shorts
Now that temperatures have risen into higher digits, it's an appropriate time to break out your favorite shorts. What to wear with them? You guessed it — a breezy tie top! Grab one with billowy sleeves and tuck into a pair of high-waist belted shorts for something you could *almost* wear it to the office. For an off-duty look, opt for something light and colorful.
Everyday Uniform
Think of these tie-front tops as an easy replacement for your heavier button-down shirts — they still feel put together and go with everything from classic denim to weekend-ready tap shorts.
Color Coordinated
Looking for a new way to tackle the monochrome vibe? Style a tie-front blouse with sleek color-coordinated trousers. Just add a party bag and some cool sandals.