6 Under-the-Radar Summer Trends To Get In On Now
Grosescu Alberto Mihai/Shutterstock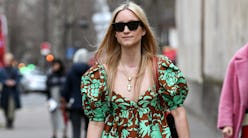 By now, you're probably fully caught up on what the big trends are for spring and summer. You've read the major runway reports and taken note of what your favorite fashion influencers are wearing, and slated your shopping lists accordingly. But if by the time May rolls around, you find you've had as much leopard print, head-to-toe beige, and '80s revival style you can stomach, it's time to take a closer look at what the season has to offer and what under-the-radar summer trends might be on the rise. These "micro-trends" could be off-shoots of the larger seasonal motifs, emerging styles and must-have items, or super-niche looks that you may have missed following Instagram and the mainstream collections.
While most might consider themselves hobbyist trend-spotters, sussing out these hidden gems is a trend forecaster's full-time job. As head of womenswear at WGSN (one of the foremost trend forecasting companies in the industry), Sara Maggioni has her finger on the pulse of what's new and now in fashion at any given moment, whether it's the latest riff on the tie-dye trend, the new way to wear cycling shorts, or specific design element she's noticed popping up on necklines and pant hems lately. (More often than not, these things are all about the details.) Ahead, Maggioni shares her expertise and insight on the season's sleeper hits and which micro-trends are gaining steam with fashion enthusiasts and early-adopters. Read on to discover the six key styles she predicts are about to blow up.
Daytime Lingerie
With festival season in full swing, dressing for Coachella and beyond is top of mind. "Notions of underwear as outerwear come to the fore, with maximum potential for festival," says Maggioni. To keep things feeling fresh, it's all about how you style the look. She recommends mixing lingerie-inspired pieces with more rugged, bohemian staples: "Pair boudoir-inspired slip dresses, bustier tops and lounge robes with festival favorites, such as western boots and accessories, trendy micro- and 2000s-inspired wraparound frames, love-worn Converse, cargos and tech pants for a fresh contrast."
Tech-Legant
Leggings aren't going anywhere, and bike shorts are becoming increasingly popular. But now they're being worn with sleek blazers, crisp shirting, and other tailored pieces for a technical-meets-elegant mix. "Tapping into the mood for a more elegant, elevated way of dressing, this styling direction sees sports-inspired influences with a high-tech feel combined with tailoring, as well as dressier and feminine looks," Maggioni explains. "Marine Serre is a key reference, having made this aesthetic her signature style, but plenty of designers, from Off-White to Hyke, are championing this direction." The appeal of this trend is its synthesis of sporty and sophisticated. Maggioni notes that "while remaining wearable and even casual, the look has a put-together sense to it, which makes it work equally well for young women and 35+ ranges."
Bias-Cut Dresses
A bias-cut dress is another key trend for summer and beyond. "Vintage influences play out through elegant bias-cut dresses, working for both day and party styles," Maggioni observes. "Reminiscent of 1930s-1940s evening dresses and nightgowns, silhouettes focus on raised, contoured waistlines, softly gathered around the bust. Satins and silks work best, but consider more opulent fabrics such as velvet and sequins for the high season." In particular, she recommends opting for styles with voluminous puffed or draped sleeves to enhance the vintage feel. As an alternative to solid colors, she says "hybrid animal prints, florals and small-scale repeat motifs" are the key patterns to consider this season.
Split-Front Trousers
Pants are having a moment, with stylish women and fashion influencers swapping out their jeans for elegant trousers. Among them, Maggioni has noticed one particular design element that's gaining momentum. "Split fronts have been bubbling under since Spring/Summer 2017, and returned in zipped renditions last summer," Maggioni notes, adding that for this season, the slit is "moving to the front of the leg for skinny and straight trousers." It's a subtle detail, but instantly updates practically any silhouette, "traversing casual and smart styles, and refreshing core shapes through a subtly flared silhouette." She also points out that it's perfect for showcasing your shoes — and considering how many lust-worthy shoes are on the market this season, that's a huge plus.
Tie-Dye Skins
Unless you're living without access to Instagram, you're probably aware how popular tie-dye is right now. Animal prints, too. Less obvious is the combination of the two. "Tie-dye showed a steep increase on the Spring/Summer 2019 catwalks and animal prints continue as a leading story," Maggioni remarks. "For newness, the two begin to merge." She references Proenza Schouler as a key catalyst for this look, noting how the label combines "dye effects with hybrid tiger marks for its turtleneck tops and jersey maxi-dresses, which have quickly become Instagram favorites." When styling these bold prints, Maggioni suggests you "consider clashing patterns for statement looks" or "decorative sequins and glitter for partywear."
Sweetheart & Square Necklines
"Historic and prairie influences continue with square-cut and sweetheart necklines," Maggioni confirms. But this season is bringing options and styling ideas beyond the frontier-inspired cotton frocks that hit the scene last summer. She says to look for these necklines with full sleeves, and "for more fashion-forward customers, a shoulder volume puff." For a new way to wear the trend, "layer dresses and blouses over a polo-neck top for a weatherproof styling option, which covers through to the autumn/winter transition." Then, come party season, find versions in "cloqué and shiny handles."