The Best Vacation Spots To Relax, According To Alessandra Ambrosio
Courtesy of LASCANA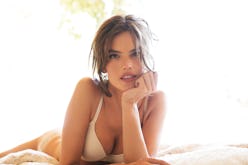 When it comes to the perfect escape, different destinations cater to different types of travelers and getaways (for instance, France is ideally for lovers, Italy for foodies, Costa Rica for adventurers). That said, nothing beats a relaxing vacation spot that lends itself to completely unplugging and detaching oneself from the world for a bit. And no one understands this more than Alessandra Ambrosio, who's spent the better half of her life jet-setting around the world for work (and sometimes play) and knows her way around the globe.
Given the fact that she's stepped foot in so many countries and essentially every metropolitan city, Ambrosio has been exposed to a plethora of environments … and knows the ones that are most conducive to a truly "chill" vacation. It's not surprising, then, that her ideal oasis involves, that's right, a beach. "I like sunny places, calm places — not big cities," said Ambrosio, who recently sat down with The Zoe Report while promoting the fall/winter campaign for lingerie and swim label LASCANA (of which she's the face of). "I need to go somewhere with an island with beautiful water that I can swim in. It needs to be somewhere warm."
A sunshine-y local is also ideal for Ambrosio's favorite companions: her children. At the age of 10 and six, it's safe to assume a beachy backdrop and some sand make for the perfect playground for the model's little ones. So it's a win-win for the kiddos and for Mommy.
And while completely unplugging and going off-the-grid is a worthy goal for any out-of-office situation, that's not always the easiest thing to do when you're a world-renowned supermodel. "Sometimes I have to be on my phone and checking emails, but I really try to take some time for myself," she said. "I'll go in the ocean, get a massage, or just lay by the sun."
Have you caught that FOMO yet? If you want to do your next vacay Ambrosio-style, consider three of her favorite beachside locales below.
Florianópolis, Brazil
In pinpointing her shore of choice, Ambrosio looked no further than her beautiful country of origin. "I love going to Florianópolis — where I have a place," she said. "It's an island off of Brazil. My family likes to meet there, and we always have a great time. There are gorgeous beaches all around and beautiful waterfalls. It's just a chill place and so much fun."
Ibiza, Spain
This legendary vacation hotspot attracts some three million tourists a year — and with good reason. Between the stunning beaches, five-star hotels, killer shopping, and exciting nightlife, you'll find no shortage of things to totally indulge in at all hours of the day.
If you're not one for the city's party scene, don't worry. There's plenty of exploring to do that doesn't involve a bar or dance club. History buffs will love ancient sites like the Ibiza Cathedral and "old town" Dalt Villa (which was officially named a World Heritage Listed Site by UNESCO), while those with rest and solitude on the brain will have plenty of secluded beaches and luxe spas at their fingertips.
Hawaii
While Ambrosio doesn't seem to favor one particular Hawaiian island, for a truly relaxing and authentic experience (sans the crowds), give The Big Island a whirl. The most volcanically active of all the islands, it offers some truly spectacular lava viewing as well as snorkeling, star-gazing, and, of course, beach-bumming.