The Best Makeup Setting Sprays Always Have This Surprising Ingredient
Imaxtree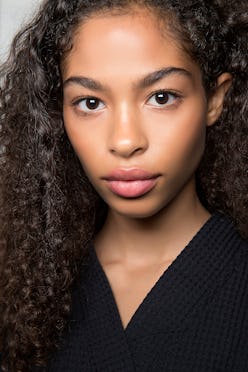 If you love applying a full face of makeup in the morning but find it melting off as soon as you leave the air conditioning, the best setting sprays for summer can save your slay with just a few quick mists. They're your saving (and cooling) grace when it comes to prolonging the wear of makeup during the hot summer months, and also boast skincare benefits like reducing stubborn redness, soothing and hydrating dry skin, and drawing out impurities.
"A setting spray is a product that is misted onto skin after applying makeup," Dr. Rachel Nazarian, MD, FAAD, of Schweiger Dermatology Group in New York City tells TZR. "It prevents it from wearing off as quickly, and also often 'blends' the effect of the makeup to make it look more soft and natural."
If you've ever wondered what goes into these products, key ingredients include polymers, aloe vera, witch hazel, and sometimes alcohol (which, yes, can be drying). Polymers are found in a variety of cosmetics products to create a protective film that sets makeup and shields from elements such as sweat and water, Dr. Shari Sperling of Sperling Dermatology in New Jersey explains. And if your skin is on the dry side, there are plenty of alcohol-free options on the market that won't cause as much irritation.
While setting sprays are used year-round, there are a few key characteristics to look out for in warmer months. "Look for mattifying qualities," Dr. Nazarian explains. "These products have ingredients that are better at preventing your makeup from budging." And these sprays totally safe to use on a daily basis, Dr. Sperling reassures. As for how much product you need, the dermatologist says anywhere between three to five sprays is enough to cover your entire face. "Hold the bottle approximately 6 inches from your face and mist all over. Let the product air dry," she notes. "Just don't blow-dry!"
But if you prefer a dewy look (without looking like you're drenched in sweat), there are still products for you, too. Dr. Nazarian proposes opting for a lightweight spray to prolong your makeup, and look for products that include hydrating ingredients like green tea, vitamin B, aloe vera, or vitamin E.
Below, see the best new and cult-favorite primers to keep your summery looks in place all day (and night) long.
Dewy Finish
Hydrating Finish
Satin Finish
Matte Finish