*This* Is The Secret To Making Your Lipstick Last All Night, According To Zoey Deutch's Makeup Artist
Jenna Kristina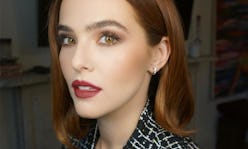 A slew of A-listers all wearing their best Chanel looks is every fashion lover's fantasy, only rarely becoming a reality during periodic runway shows and the annual Artists Dinner. Merging the worlds of film and fashion, Chanel's coveted event brings chicness to the Tribeca Film Festival every year. Monday marked the big night and Zoey Deutch's tweed suit and red lipstick stole the spotlight.
Katie Holmes, Cara Delevingne, and Chloe Sevigny all walked the "black carpet" before filing into luxe French restaurant Balthazar for Chanel's highly anticipated Artists Dinner. While a surprising number of guests arrived in edgy, trend-forward leather ensembles, Deutch threw it back to the fashion house's roots in a tweed suit.
Her black-and-white separates were a nod to the timeless set that made the iconic brand famous in the '20s and there was no better fit for them than a classic red lip.
Reportedly using old-school Chanel advertisements as her muse, Deutch's makeup artist thought a bold pout would complement her dark eye perfectly, and she was right.
The beauty guru herself, Jenna Kristina, walked The Zoe Report through her unique four-step process for creating a lasting red lip and you'll be surprised by how easy it is.
It's all in how you layer it, she says. Using all Chanel beauty products, of course, Kristina primed Deutch's lips with all-over liner, then applied lipstick in a classic scarlet shade. And as far as making the color last, Kristina says the secret is powder.
After the first layer of lipstick, the makeup artist brushed Deutch's pout with a dusting of powder before applying a second coat. Judging by the fresh look of the actor's lips throughout the event, you can pretty much trust that Kristina's lipstick hack works.
She does have a few additional tips for beginners, though.
"Give your lips a good scrub then apply a generous amount of lip balm, and keep the balm on while you're doing your face makeup," she says. "Right before you apply your lipstick use a tissue to dab off excess balm so the lipstick can adhere to your lips."
And while she's a firm believer in the power of liner — "to create a boundary for your lipstick to stay in place," she says — Kristina suggests starting with a nude shade before diving head-first into the bright red she used on Deutch.
Now, you should be ready to try the actor's retro red lip at home. Ahead, some of the exact products her makeup artist used and others to help you recreate the look with ease.
Shop The Products