The Best Foundations For Medium Skin Tones Include A $12 Drugstore Staple
Imaxtree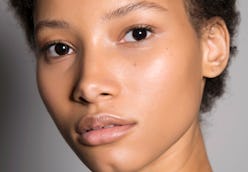 As much as I hate to admit it, I use a foundation at least five times a week. Thanks to impossible-to-get-rid-of acne scars, and my uneven postpartum skin, foundation is my hero beauty product. Finding the best foundation for my medium skin tone with a seamless match and just enough coverage is a quest that I'm constantly embarking on. I've tried to keep my foundation usage to a minimum so as not to perpetuate my cystic and hormonal adult acne. And while my complexion is definitely clearing up, I can't shake my need for that filter-like finish.
Read more: The 16 Best CC Creams On The Market, According To Rave Reviewers
My skin is in between so many medium and neutral shades, so finding the correct undertone in an age where there are literally hundreds of options takes so much effort. So far, I've found that medium shades with neutral or warm undertones work best for me. Anything with a pink undertone makes me look washed out and well... pink. And anything golden or yellow makes me look I did my makeup in the dark.
I've found that having a variety of foundations in liquid and powder forms can be really helpful in that they serve their purpose for whatever my skin needs at any given moment. Liquids are great for applying with my fingertips and giving me a lightweight, natural finish , and powders help when a breakout rears its ugly head and I need a bit more coverage.
And in terms of drugstore versus prestige, I'm pretty flexible. If I have meetings, events, or a date, I'll reach for a luxury formula that's rich and creamy. If it's a regular day filled with work and mom duties, I like something more fluid. Even though it might seem like I probably have thousands of formulas in my vanity, I've whittled my go-tos down to a reasonable list of 10. See them ahead.