How I Found My Foundation Shade (Even Though There Were 100 Choices)
PUR Cosmetics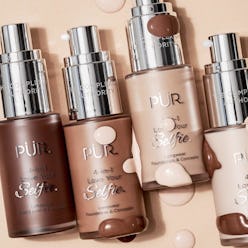 Have you ever had too much of a good thing? Perhaps one-too-many glasses of wine during open bar, or an extra bite of that dessert you meant to split down the middle with a friend? That's kind of how I feel about foundation these days. For the first time in, well, ever, I can easily find a match for my dark brown skin tone without much effort. But now — and forgive me for saying this — all of the options kind of feel like overkill. Which is, admittedly, how I felt about PUR's 4-in-1 Love Your Selfie Foundation, launching April 19. I was among the first to try the new launch in Atlanta, Georgia, where PUR Cosmetics (a subsidiary of Astral Brands) is headquartered. As an editor who witnessed the breakthrough of Fenty Beauty by Rihanna, my attitude isn't necessarily "Been there, done that." It's "Why now?"
Tisha Thompson, VP of Marketing and Product Innovation at PUR, was more than happy to answer my burning question. "Our overall goal when building out a product launch is to create something that everyone can enjoy," Thompson, who's a woman of color herself, tells me. "The ongoing conversation around inclusivity and representation is one that we're proud to be a part of, as it's a much-needed change within the beauty industry. We're inspired by this movement, but also mindful of the feedback that consumers have been giving and this product seeks to address some of the remaining concerns, like undertones, performance, and skincare ingredients."
To make sure that all undertones were truly represented, Thompson took a trip to Seoul, Korea where the laboratory is located. She and her team went through hundreds of samples in the base formula to see how the foundation worked with skin before selecting the final range. "We wanted to ensure that each shade blended naturally with the complexion for the most skin-like finish without oxidizing or changing colors over time, which took a lot of trial and error," she says. And in terms of ingredients, the team definitely wanted to ensure that the medium-to-full matte formula felt comfortable for longer wear (the vitamin B, green tea, and ginseng help with that). But the blue light defense and anti-pollution defense — two important factors for the brand — separate this range from the rest.
While I was sold on the message and the science behind the product, I still was a little skeptical about how to choose one shade out of 100. I've spent way too much time swatching 30, 40, and 50-shade launches only to find that there wasn't much of a difference between them all. To make things easier for consumers, Thompson says that the foundations are categorized by Light, Medium, Tan, Dark and Deep. Within each category, consumers can choose if they have pink (cool), golden (warm), or neutral undertones. "Within those categories, shades are available in a natural gradient from lightest (1) to darkest (7)," Thompson explains. "Once we selected the final range, we wanted to make it super easy for the consumer to find their shade. It's a simple, three-step process. We also partnered with Findation, a tool that helps match your shade based on other foundations, and our own Instagram Shade Finder." Bonus: Shade Finder models are everyday women of all ages and races... no overly airbrushed models or influencers.
instagram.com/purshadefinder
instagram.com/purshadefinder
With the help of the PUR Shade Finder (and, uhh, a professional makeup artist), I was able to determine my own shade: DPP6 — deep with pink undertones. It didn't take a whole lot of product for a full coverage finish, either — just a few dabs here and there, blended out with the brand's new BHOLDER Dual-Action Complexion Applicator (which features densely packed bristles and a firm silicone core for precision blending). See the before-and-after magic below.
I can't lie — I know myself, and know that I'll probably still look at 40+ shade ranges with a cynical eye. But knowing that there's actual love and dedication behind this launch makes me want to come back for more.
All 100 shades of 4-in-1 Love Your Selfie Longwear Foundation & Concealer launches April 19 on PUR Cosmetics. 40 select shades will be available on Ulta.com.