These Sandals Look Great With Every Dress You Own
@slipintostyle On Instagram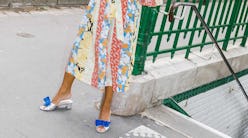 When putting together a strong head-to-toe look, many fashion folk consider shoes the wisest place to start. This is likely because the wrong footwear can totally throw off a look, even if you adore what you're wearing up top — period. Now, the warmer months are prime dress season, but what are the best shoes to wear with said dresses this summer? It's worth auditing your closet to ensure you have versatile footwear to slip into before investing in — and packing — a new favorite dress for an upcoming vacation. After all, versatility is the key element of any modern wardrobe, especially when closet space is limited. Investing in pieces that can be effortlessly mixed and matched with one another translates to more space for creativity — and more outfits.
Read more: The Best Shoes to Wear With Baggy Jeans & How To Style Them Too
Ahead, see which shoes go best with every style of dress style you might be working with. There are a few usual suspects — including some seriously cute heels, of course, and Birkenstock-like sandals (celebrities in Birkenstocks are having a major moment right now). But you'll also be surprised to find a few unexpected footwear options, including a controversial sandals trend that's taken the fashion crowd by storm. Armed with a few fresh pairings to try out, you'll be ready to try a styling combination you never thought of before.
Sporty Sandals
The sporty sandals trend isn't for everyone, so if you're not a big fan of the cool dad aesthetic then consider skipping this one. However, if you're #TeamTourist then you'll be delighted to know that this unexpected footwear choice is actually super versatile. It translates from a weekend date staple like a mini wrap dress but also looks chic worn with an ankle-length floral number.
White Sneakers
There's something so undyingly cool about a pair of clean white kicks. You can go a few routes, including the classic direction with cult favorites like high-top Converses or you can wear an under-the-radar label with interesting design details à la Feit or Veja. Pair these timeless sneakers with slips, midi lengths, ruffled embellished frocks, and just about any other dress you've got hanging in your closet — they're a great neutralizer.
Espadrilles
Now that we're in the heat of summer, espadrilles are a footwear option that sounds especially appealing. Thankfully, this warm weather-inspired shoe adds a touch of Parisian elegance to any dress on the rack. For the French-girl look, try a breezy linen or floral number.
Low Block Heels
While a pair of super-high heels is fun to indulge in from time to time, they're best reserved for more formal affairs like weddings or work events. The alternate? Low block heels. These can dress up a cotton shirt dress but also look suitable with a flowing floor-length number — they're impeccably easy to style.
Strappy Sandals
The strappy sandals trend is one to put into heavy rotation. This '90s-inspired shoe has made such a strong comeback in 2019, that it's entirely within reason to wear it with every dress style and silhouette in your wardrobe.
Modern Mules
The ideal modern mule features an unexpected pop of color (hello, lavender) or an eccentric element like a lucite heel. The overall minimalist aesthetic lends itself to versatility, which is why wearing your favorite pair with all your favorite dresses is a very real possibility.
Slingbacks
If you're searching for a shoe that you can wear with poplin summer dresses but also alongside an evening gown, your safest bet is a pair of slingbacks. They feel elevated enough for a formal environment but alluring enough to work for a casual dinner with friends.