The Best Shoes To Wear With Baggy Jeans & How To Style Them
Jeremy Moeller/Getty Images Entertainment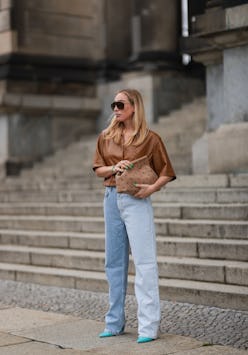 While looser denim fits fell out of favor in the mid-2010s, when silhouettes skewed toward super-skinnies and straight legs, slouchy designs are back in full force as Y2K fashion continues to guide dressing habits in 2022. A trip down memory lane will prove how appealing the look can be: Winona Ryder wore it everywhere she went in the '90s. TLC changed fashion forever when they all slipped into undone overalls for a press call. And Aaliyah, of course, was the queen of making relaxed dungarees look cool. Another key to pulling off the style? Choosing the right shoes to wear with baggy jeans.
Keep in mind that loose-fitted jeans are a bona fide look, so ordinary footwear simply won't do. Suffice it to say, whatever sandals, boots, or sneakers you pair with your baggy bottoms matters even more than, say, with your everyday skinnies or straight-legs.
So, scroll on for your guide to the best shoes for the job, from timeless styles like flats, pumps, and minimalist sandals to the most of-the-moment options, including chunky slides, platform soles, clogs, and loafers.
We may receive a portion of sales if you purchase a product through a link in this article.
Ballet Flats
To achieve the popular coastal grandmother aesthetic, pair your favorite baggy jeans with an elegant pair of ballet flats. Team the pairing with a neutral-colored oversized sweater, a cohesive accessory color (in this case, a matching black purse and sunglasses really elevates the look), and of course a fresh out of the salon blowout. (Hello, Carolyn Bessette-Kennedy vibes!)
Loafers
Preppy wardrobe items are trending, so there's no better time to add a collegiate touch to your baggy jean look. Finish off your OOTD with knitwear in a bold, maximalist print. Or, opt for an equally baggy sweater for an oversized look.
Strappy Sandals
Strappy sandals are definitely having a moment, so grab yourself a pair and style them with something slightly unexpected: slouchy denim. And if it's too cold to go barefoot, accessorize with a sheer sock in an eye-grabbing pattern.
Chunky Sneakers
It may seem counterintuitive to pair something bulky with another bulky piece, but the two can add up to a very cool combination. Balance the look with a slimmer silhouette up top to give the ensemble an air of insouciance.
Slides
This unfussy, simple shoe is one of summer's biggest trends and a great option for those who don't feel like spending extra time on laces and straps. Pair your favorite comfy slides and baggy blues with a basic white tee and a tote bag for a no-frills weekend look.
Clogs
Think of it as a closed-toe interpretation of the sock-and-sandal pairing — a combo that provides a casual, model-off-duty look that's both trendy and relaxed. (FYI, Gigi Hadid is a big fan of this vibe.) You can even make clogs the centerpiece of your outfit by opting for a pair in a fun, eye-catching color.
Kitten Heels
Give oversized denim pants a ladylike touch with a kitten heel. For the office, try out a sleek mule or slingback silhouette, and on the weekends, opt for a strappy sandal with the mini heel.
Square-Toe Silhouette
Couple your roomy blues with square-toe sandals for a '90s-inspired ensemble. Add on a baguette bag, and you have yourself a whole outfit influenced by the trendy decade.
Pumps
Perhaps the biggest concern you have surrounding the baggy jeans trend is whether or not it will come across as sloppy. The quickest way to quell these anxieties? Choose a pair of shoes that can quickly add some polish. A pair of pumps (slingback, low-heel, or otherwise) is a no-brainer choice. Complement the two with a fitted blouse and a roomy bag for a right-now aesthetic.
Cowboy Boots
Team your baggies with a pair of cowboy boots for a Western-inspired look. To finish, consider a classic button-down, or take style cues from Bella Hadid and throw on a jean jacket for a full denim-on-denim ensemble.
Pointy Ankle Boots
A pair of pointy-toe ankle boots with bring a touch of timelessness to your baggy jeans. The two look exceptionally polished when styled with an oversized blazer, a perfect white tee, and some layered necklaces.
Trainers
If chunky sneakers (or dad sneakers, as some might say) aren't your thing, there are still plenty of stylish options available on the market. Instead, try a pair of court shoes or trainers with your baggy jeans for a relaxed vibe. If you're feeling especially adventurous, opt for a colorful version for a playful touch.