Tourist Sandals Are The Next "Ugly Shoe" Every It-Girl Is Buying Right Now
Shutterstock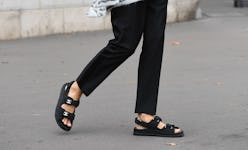 Every season seems to come with its own "ugly" shoe trend — clunky dad sneakers, Crocs, toe-loop (or worse, toe sleeve) sandals. No matter the style, the adjustment process is always the same: first, you're skeptical, then slowly grow amenable to trying it out, and eventually you're full-on converted. This spring and summer, the trend is sporty tourist sandals. Featuring orthopedic rubber soles and utilitarian details, Teva-esque sandals crept onto the scene last year with Prada's Spring/Summer 2018 collection, and have gradually gained momentum with droves of designers taking a stab at reinterpreting the polarizing shoe. The Row did a minimalist leather version; Marni, several updates to the iconic lug-sole Fussbett sandal; Nanushka delivered strappy flats in padded satin and vegan leather variations; Gucci's came blinged out with rhinestones and other embellishments. But while this season's myriad versions run the gamut from glamorous to outdoorsy, it can still be tricky figuring out what to wear them with.
Fashion influencers and It girls have, of course, played a large part in bringing sport sandals into the mainstream, helping move the look along from questionable to acceptable. A quick dive into the feeds of your favorite trend-savvy Instagrammers will showcase several unexpected ways to wear them. For example, some women have embraced the trend's intentional unseemliness like a badge of honor, wearing their sporty sandals with socks. (Hey, if you're going to buy into "ugly" trend, you might as well double down, right?) Others, by contrast, style them with delicate skirts or dresses to offset the athletic comfort aspect.
If you're still on the fence about this one, we tapped a few experts from your favorite online retailers to help make sense of the Teva-inspired trend and how exactly to wear the latest designer renditions of the style. Continue on below for their pro tips and shopping picks.
Celenie Seidel, Senior Womenswear Editor at Farfetch
"I think the sport sandal has been so widely embraced because when it comes down to it, people appreciate being comfortable! I see it as a summery extension of the sneaker boom — we've seen an incredible uplift in the sneaker offering from designers across the market over the past few years, and through this I feel as though customers are becoming increasingly accustomed to wearing footwear that they can truly function in. Enter: the sport sandal. Designers are having a lot of fun interpreting the Teva-inspired trend: it's great to see a real mix of color and texture going on. For those of us who are city dwellers, it's very refreshing to wear sandals with a sole cut out for all that concrete… I'm all for shock-absorbing footwear!
I spent last summer in a Prada uniform of nylon shorts, button-down short-sleeve printed shirts, and a pair of Prada 'hiking mom' style sandals. This year I'm keen to take a different approach. For spring, before the weather gets too hot, I'm thinking of wearing them with socks, paired with a dress + long cardigan combination."
Cassie Smart, Head of Womenswear at MATCHESFASHION.COM
"We really believed in this style from the Prada SS18 collection — we bought across many options and had an amazing response from customers, with a lot of the styles quickly selling out. I think the appeal is that they offer a new shape to the customer for summer, combining the practicality and comfort of trainers with a more fashion trend element that works well across many looks. A favorite for me is the upcoming collaboration between Cecile Bahnsen and Suicoke —we have an exclusive white pair that have a beading detail that compliments Cecile's AW19 collection with us. I also love the takes on this style from The Row, Joseph, and Marques'Almeida.
Traditionally a more masculine style, I think [sport sandals] look great pared back with a more feminine silhouette, such as the voluminous dresses from Cecile Bahnsen and Simone Rocha."
Caroline Maguire, Fashion Director at Shopbop
"I think 2019 is all about athletic hybrid sandals. I am loving the updates we're seeing in Teva-inspired sandals this season — they're the perfect way to kick off open-toe season! My favorites are those with lots of texture, like these Toga Pulla sandals in a muted colorway, or these from Melissa if you're going for the neon trend!
My go-to look this spring will be a great pair of longer length denim shorts, a vibrant tie-dye top, wraparound shielded sunnies, and an uber-comfortable sport sandal."