This Is The Most Expensive City In The World (No, It's Not Paris)
JKstock/Shutterstock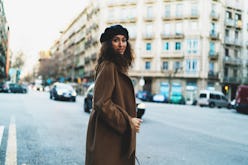 When it comes to finding a place to hang your hat, the obvious inclination is to make that place as cost-effective as possible, right? That said, you can't deny the appeal and glamorous pull of the more luxe locations in the world. The most expensive cities in the world can gain those titles for a number of reasons, whether that be for general opulence, high-end real estate, ideal weather, or booming commerce.
"Cities are expensive because they can be," says Amy Brueckner, an intrepid world traveler (59 countries so far) and Chief of Staff for travel company CIRE. "People want to live there so they'll pay a premium to do so. One thing to think about: Is it a vacation destination or resort community but only bustling during a certain time of year? For example, I live in a beach community in New England. It's hopping in the summer but much less so in the winter. Still the housing and restaurant costs play to the tourists…sky high!"
Katy Rebrovich, CIRE's senior leisure agent, says "cost of living, hotel accommodations, eating expenses, and commuting/public transport" are all things taken into consideration when ranking an expensive city. "For some expensive cities, it's all about location (think beaches in Los Angeles and southern California)," she adds. "For others, it's the prevalence of history and culture (and cultural variety), as seen in London, Manhattan, and Paris. Also, there's the quality of life factor, like countries that have great medical coverage, public services, mandatory time-off benefits, etc. Most cities in Sweden fit that bill."
In the worldwide roster of expensive cities, cities like Tokyo, New York City, and London may stick out for you in terms of high cost of living. However, some of the most expensive cities in the world are actually quite unexpected. To prove it, CIRE's travel pros as well as annual reports like Mercer's City Cost of Living report and The Economist's Worldwide Cost of Living Report were tapped to get the lowdown on some of the most expensive cities in the world. So, if you've got a taste for luxe living, read on, take notes, and start packing.
Hong Kong, China
Topping Mercer's list is none other than the booming Chinese city (which held the top spot in 2016, as well), known to sell parking spaces for upwards of $760,000. "Stronger Chinese monetary regulation, a flourishing economy, and a push to have the Chinese yuan as an international currency pushed Chinese cities up the ranking," said Yvonne Traber, Mercer's global mobility product solutions leader in a published interview with CNN Travel.
Zurich, Switzerland
Both The Economist and CIRE's leisure and corporate travel expert Jason Villacres ranked the Swiss city as a global hotspot. And while Zurich may at first glance seem like a rural Alpine retreat, it's actually the biggest financial hub in Switzerland and one of the wealthiest European cities to date, thanks in large part to the fact that it's headquarters to some of the most important European banking corporations.
Singapore
Its wealth may have been spotlighted in the recent blockbuster Crazy Rich Asians, but Singapore's reputation as the most expensive place in the world (ranked by The Economist) has been long held. In fact, according to research conducted by data firm WealthInsight, one in 34 people in Singapore are millionaires. For some perspective, this makes it the sixth most millionaire-dense country in the world and the top across Asia.
Paris, France
"Expensive cities are where trends start, and all that brings with it," says Jason Villacre. "They are where people want be (and be seen) and want to spend their hard-earned money. Many of the best restaurants in the world are in expensive cities (and good spas aren't usually far away either, if you need de-stress)." Case in point: Everyone's favorite city, Paris.
Seoul, South Korea
It's not surprising this South Korean city made the cut considering its cost of goods and commodities are notoriously high. In fact, according to Mercer's study, a cup of coffee in Seoul ranked highest in the world at over $10 per cup. Makes you want to stick to water, right?
Luanda, Angola
According to BBC News, Luanda's high ranking is due to its "cost of secure accommodation for expat staff as well as for everyday goods." The report goes on to explain that the cost of renting an unfurnished three-bedroom house of starts at a whopping $13,000 a month.
New York City, United States
"Expensive cities are usually meccas and hubs," says Esther Klijn, who specializes in honeymoon and high-end leisure travel for CIRE. "Manhattan is notoriously expensive, but it's a melting pot…not only culturally, but in other aspects as well. People are working all sorts of jobs in all sorts of industries. I strongly feel that there are very few cities in the world that hold this opportunistic atmosphere."
Oslo, Norway
Seeing that Oslo also topped the 2017 UN World Happiness Report in terms of longevity, corruption, and social support, it's no wonder people are willing to pay a pretty penny to live here.
This article has been updated from its original version.