The Spring 2019 Trends You Can (& Should) Start Adding To Cart Now
Pixie Market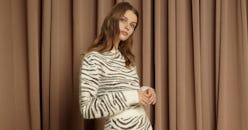 Okay, it may only be a week into January, but it's safe to say anyone who's braving the cold winter weather is probably looking forward to the warmer days of spring that lie ahead — and they're not alone. Retailers everywhere have been releasing some of the upcoming year's biggest trends with their new spring 2019 arrivals, giving you an ample amount of reasoning to start shopping for a (albeit slightly) warmer climate. Though spring doesn't officially arrive for another couple of months, it's never too early to stock your closet with pieces you'll wear from now into 2020.
With every new year (and season) there are a new set of trends to consider; not to mention, the ones from the past year that you loved so much that have come back for another round. If you're a fashion lover who likes to stay ahead of the trends and keep a pulse on the pieces you'll see in a mere matter of weeks, the new arrivals section of any retailer will give you a helpful hint.
Just in case you're not sure where to start, there are few key trends that stand out as ones you won't want to pass up. From sleek corduroy pants that will feel like a modern turn from wool and mod prints to the continuing trends of patent leather and animal prints, these are the trends to add to your cart, now. Check them out below.
Corduroy
While corduroy has been around time and time again, the textured material will give you a new (and comfortable) alternative to your standard pair of jeans or trousers, while feeling both playful, cool, and elevated all at once.
'60s Mod Prints
Just in case you haven't noticed, fashion oftentimes repeats itself. You've already seen the return of the '90s, but now it's time for the psychedelic print of the '60s to make its triumphant return in the form of stylish clothing.
Brown
You may have overlooked dressing in head-to-toe brown at one point, but this neutral hue gives a warm approach to minimalist dressing in an unexpected form. Plus, rich shades of the color will feel luxurious against everything else.
Patent Leather
Though patent leather has been seen on and off the runway in nearly every form for a few seasons now, the trend will make an even bigger impact on 2019, becoming a new staple among closets everywhere.
Unexpected Animal Prints
To say the animal print trend is alive and well would be an understatement. And while you've probably already stocked up on leopard print for a lifetime, add more unconventional takes on the trend, such as giraffe and zebra, to your collection.