The Patent Leather Trend Is Alive & Well In 2019, According To Frankie Shop's New Arrivals
Frankie Shop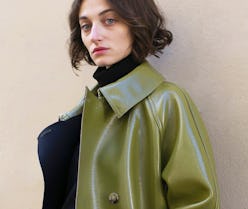 While a fresh new year means new trends to try, it doesn't mean everything that 2018 had to offer must go out the window. In fact, several of the previous year's best styles are still going strong, some even gaining more momentum as 2019 unfolds. One such style you'll want to take note of, if you haven't already? The patent leather trend is alive and thriving — just look to the Frankie Shop's latest arrivals for proof.
Those who are already avid Frankie Shop patrons know it's the go-to place for high-style but low-investment pieces that are on point with current trends. Considering the post-holiday state of your bank account means you're less likely to drop major funds on trendy fashion, it's a good retailer to rely on if you're still trying to stock up on some new styles for the new year. And though Frankie Shop's new arrivals are bursting with great buys all year round, they're particularly appealing right now because they've pinpointed the exact trends that are kicking off 2019 — including sleek, shiny patent leather.
If you hadn't already picked up on the patent leather trend when designers like Janis Studios and STAUD were fashioning handbags and other accessories out of the high-shine material for Fall 2018, it'll be hard to miss now because the style is only getting bigger. For 2019, it looks like the more patent the better, as Frankie Shop's latest drops include long patent puffer jackets, shiny leather trench coats, and slick pencil skirts all treated with the sleek finish.
The store's new arrivals are especially great news if you've been meaning to update your coat collection to get you through the long remaining stretch of winter. This $328 Beige Patent Hooded Jacket is ideal for cold rainy days when you're forced to face the elements, and would rather do so with some semblance of style. The shiny, water resistant finish, hood, and oversized fit will keep you dry and warm, while the neutral but unexpected color and oversized pockets keeps you feeling chic and on trend.
And for the chilliest times, grab Frankie Shop's patent and shearling coat offering, $399, available in both camel and black colorways. The classic double breasted silhouette and long lines feels both retro and recent thanks to the high-shine finish and faux-shearling trim.
But the trend isn't just for outerwear — infuse the look into your office wardrobe with this patent and tweed pencil skirt, $124, and try the look on the weekends with a shiny croc embossed miniskirt, $99. Both feel like fresh updates to your go-to pieces for work and play, but are still basic enough in color and style to pair with your existing blouses, sweaters, and accessories.
Basically, the message is this: patent leather isn't going anywhere in 2019. And with the trend clearly here to stay, you'll want to stock up STAT to be among the first to sport it in the new year. Browse the Frankie Shop's best new shiny arrivals below.