The One Thing You Should Do Before Taking A Solo Trip
Thomas Lohnes/Getty Images News/Getty Images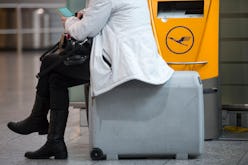 Solo travel is all the rage, but the idea can certainly be daunting. There's maps, transportation systems, and language barriers to navigate, and for women especially, safety is a top concern. But if you ask any ladies who've embarked on a journey by themselves, they'll say it's an experience that'll change you for the better. However, there are a few things you should know before your first solo trip to ensure a successful one.
"Solo travel may seem intimidating at first since it takes you outside your comfort zone, but it can be an incredibly liberating and rewarding experience," says Shelley Cline, president of TCS World Travel, which offers all-inclusive trips around the world. "The most important advice I have for first-time solo travelers is to go into it with an open mind."
Ahead, three solo travel gurus tell you everything you need to know before booking your trip-for-one. From ways to get started, to tips for staying safe, to overcoming travel fears, this expert advice will inspire you to set out on your first solo adventure. If you've been hesitant to plan a trip alone, read on; you'll discover you don't need a companion to check off your bucket list destinations.
It Will Change Your Life
Women who travel alone admit that the inaugural trip can definitely be daunting. But they also say that facing your fears is exhilarating, and the lessons learned and confidence gained is absolutely priceless. "So much of travel is about learning about yourself, the world, and yourself in the world," says Beth Santos, founder and CEO of Wanderful, a women's travel site. "When you do it on your own, you learn so much more about yourself than you could when you're having that experience through the context of other people."
Planning Will Help Ease Anxiety
Rocio Vázquez Landeta, founder of the food tour company Eat Like a Local, Mexico City, says extensive research and planning helped her overcome her anxiety. "For my first solo trip, I created a detailed plan from how to get to my hotel from the airport, from Google maps routes, to creating an itinerary," she explains. "This made me feel in control. I later skipped the itinerary once I was deep into my trip, however it gave me a sense of assurance knowing that I had it in the first place."
Try Starting Slow
When you're just starting out, it's important to set yourself up for success by having a positive experience. While a faraway country may be on your bucket list, choosing a destination that's bound to present language barriers and culture shock may not be the best choice for first-time solo explorers. "You don't have to go across the world in order to have a transformative travel experience," Santos points out. "Try traveling on your own in small bites. Maybe the first step is just taking yourself out for a nice dinner somewhere. Then going on a day trip. Then making it a weekend trip in a different part of your state or province. That way, you can ease yourself into the experience of being alone and get used to that alone time."
However, if you can't get that dream destination off of your mind, try joining a travel group where the transportation, tour guides, and itineraries are all planned for you (more below).
Traveling Solo Doesn't Really Mean You'll Be Alone
Yes, there will be moments of solitude, but planning a trip for yourself doesn't have to mean being lonely. "Despite the fact that it's called 'solo travel,' for the most part, you're never truly alone," assures Santos "You're surrounded by people — people you can share a laugh with, who can take a picture of you, who can connect with you."
As mentioned, you can even book an organized group trip to get the solo travel experience without the stress of planning your own itinerary (plus, you're bound to make some amazing new friends). "Joining an organized trip is a great way to ease into solo travel," says Cline. "This allows you to enjoy the independence of taking a journey on your own with the structure and security of traveling with a group. We plan all the details for our guests, they never have to worry about things like, for example, getting from the airport to the hotel in a new country where there might be a language barrier."
Being mindful of your accommodations will also help you stay in the company of others. You can stay in a hotel or hostel where there will inevitably be lots of other travelers (and if shared sleeping spaces aren't your thing, most hostels have private rooms you can book). Also, check out the Wanderful homesharing network, for lodging that comes with local expertise. "We have women all over the world who rent rooms in their homes to guests who are coming to town, and offer their advice to help them get around," says Santos.
You Should Make Safety A Priority, But Fear Shouldn't Hold You Back
Safety is one of the biggest concerns for solo travelers, especially women, but veteran female globetrotters say there's no reason to let fear hold you back. "I think often when something does happen to women when they're abroad, it gets a lot of press and perpetuates certain suspicions and biases," says Santos. "Do I think it's unsafe for women to travel alone? Depending on the city you live in, traveling alone may not be any less safe than staying at home. Do I think all genders need to take precautions when they're traveling by themselves? Absolutely."
Landeta and Cline share some safety tips they've learned along the way:
"Never say you are alone, and always tell people that your friends are waiting for you at the hotel," warns Landeta. "If strangers know that someone will be looking out for you, they will think twice before doing something bad."
"Try to stay at hostels or hotels with security," she continues. "If you are staying alone at an apartment, you can't reach the concierge or the security guards if you need help."
"Don't drink heavily," she also recommends. "I know, the fun part of traveling for some people is partying, but it is not a good idea to drink heavily for solo female travelers."
"I'm always back at my hotel by 11:00pm or midnight," Landeta mentions. "It may sound boring to have an early-ish curfew, but it makes me feel safe."
Cline adds, "It's best to stick to public places when walking around, especially at night. It's also helpful to prepare as much as possible ahead of time and familiarize yourself with maps of the area you'll be exploring, so that you appear assured and confident."
"You don't want to look too much like a tourist, as this can make you stand out in a foreign destination," she explains. "The more you can blend in with the locals, the better – from obeying the local laws and customs, to mirroring the way the locals dress."
"Most importantly, remain aware of your surroundings and trust your gut if a situation feels dangerous," Cline concludes.
It's Never Too Late To Take A Trip By Yourself
No, touring through Europe isn't just for free spirits in their early 20's. "There are a lot of expectations about what solo female travelers look like, especially in terms of age," says Santos. "We have found an overwhelming number of women in our community who are exploring solo travel later in their lives, after retirement, losing a loved one, or becoming empty nesters. There is no wrong time to take your first solo trip — you can find solo travelers of all ages."