Sol de Janeiro's New Launch Is A Fragrance-Free Version Of The Fan-Fave Body Cream
Courtesy of Sol de Janeiro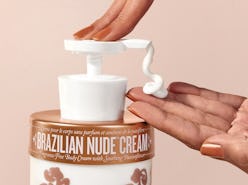 Mere months after launching a candle that celebrates the telltale scent of its cult-loved Brazilian Bum Bum Cream, Sol de Janeiro's new Brazilian Nude Body Cream presents a skin-soothing iteration for those who could do without the fragrance. The all-over formula is a fit for fans of the brand with sensitive skin (and for those who'd rather a shimmer-free finish, too) — and it's landing just in time to keep skin soft during one of the driest seasons. Your life may not be filled with many beach visits these days, but Sol de Janeiro's got your one-way ticket to Brazil.
If you've ever tried Sol de Janeiro's bestselling Brazilian Bum Bum Cream (it's got over 3,000 glowing reviews at Sephora, so you could certainly say it's popular), you'll likely recognize its fragrance immediately. The intoxicating scent of pistachio and salted caramel is in large part responsible for its success —  if you love it, you definitely want the brand's limited-edition candle — although fans also adore its rich texture and skin-firming effects, too.
However, that's not to say that everyone was pleased with the highly perfumed lotion; in fact, there were countless calls for a cream that came fragrance-free. Thus, Sol de Janeiro's new Brazilian Nude Body Cream was born.
The first-ever non-fragranced body cream from the brand, $40 for a 13 ounce pump bottle, was created by Sol de Janeiro with users that have sensitive skin in mind — it's also shimmer-free, unlike several of its other illuminating skin products. The body care line hopes it'll be its most wide-reaching product yet, and reinforces the belief that sensitive skin deserves to feel sexy and touchably soft, too.
Brazilian passionflower and colloidal oatmeal are the hero ingredients of Brazilian Nude Body Cream, both of which are known to soothe and comfort irritated, stressed-out skin. While the Brazilian plant boasts plenty of omega fatty acids and vitamins A and C to hydrate and calm itchiness, the oatmeal works to strengthen your skin's natural barrier for lasting moisture. Slather it all over dry skin for an instantly softer feel; if you still crave a sultry scent, Sol de Janeiro says the lotion layers well with any perfume.
Part of the fragrance-free lotion fan club? Snag the new Brazilian Nude Cream below, or at Sephora beginning Dec. 26.