This Weather-Resisting Lotion Has 3,000 Perfect Reviews (& Smells *Amazing*)
IMAXTREE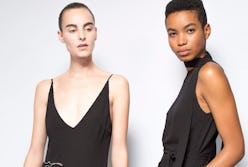 For a relatively simple product, body lotion can create quite a bit of buzz. It really has one main objective: helping your skin attain happiness, health, and lots of necessary moisture. For the pro-perfume shopper, it can also double as a fragrance — though your mileage will vary here. And that may be the reason shoppers leave behind so many passionate product reviews; finding one that works for you and your scent preferences is no small feat. However, scrolling through these sections may be your ticket to finding your own holy grail — because the best body lotions for dry skin can be sniffed out by the trail of 5-star reviews left in their wake.
Just take Sol de Janeiro's Brazilian Bum Bum Cream for example. Advertised as a skin-tightening body cream, the $45 lotion achieved cult fame thanks to its pistachio-and-caramel fragrance. Sol de Janeiro even created a candle inspired by the best-seller's unique gourmand fragrance. And in the 3,000 perfect reviews left on Sephora's website, the lotion's scent is definitely mentioned more than once.
That's not to say that the lotion's skin-healing properties are anything to ignore, though; great for dry and sensitive skin, the quick-absorbing Brazilian Bum Bum Cream formula uses a blend of plant-based caffeine, antioxidants, and moisturizers to lend your skin a helping hand.
Not so into perfume? The fragrance-adverse shopper can still get in on lotions that've garnered cult followings, sans scents. Retailing at just $6.59, the unscented Aveeno Daily Moisturizing Lotion has close to a 5-star rating on Target's website from over 1,000 reviews. The secret may be the lotion's added oatmeal, which transforms the DIY skin-soothing oatmeal bath trick into something you can easily apply morning, noon, and night.
Of course, your opinion on fragrances — and which ones you like — may be somewhere in between scent free and gourmand. If so, continue reading. Nine highly reviewed lotions are below, each one with a unique scent (or lack thereof).