This Cult-Favorite Scent By Sol de Janeiro Now Comes In Candle Form
Sol de Janeiro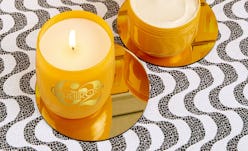 There are few scents in the beauty industry quite as cult famous as the smell of Sol de Janeiro's Brazilian Bum Bum Cream. Its sweet, caramel-drizzled pistachio fragrance has won it innumerable fans over the years — including close to 3,000 perfect reviews at Sephora (though the lotion's skin-tightening formula also may've helped it out). And now, thanks to Sol de Janeiro's new Cheirosa '62 Candle, you can fragrance your home with the Brazilian Bum Bum Cream's signature scent, all year long.
Retailing at $48 and available on SoldeJaneiro.com as of Aug. 22, the new 8-ounce candle's product description gives shoppers who haven't smelled the iconic lotion a hint of what's in store; the brand describes the candle as "sol-sparked", adding that it's a mixture of pistachio, caramel, vanilla, and jasmine. Though it's slightly more complex than even that, too — an almond note sits as the top of the fragrance, a floral heliotrope scent in the middle, and a warm sandalwood rounds out the base.
The candle itself uses a soy-blend wax, and is housed in a summery glass tumbler decorated with vintage-inspired lettering. Better yet, the brand claims the burn time will last up to 45 hours, giving you plenty of time to light it, lounge, and pretend you're on the beach.
Wondering what the candle's name is all about, though? If you're a longtime Sol de Janeiro devotee (and Brazilian Bum Bum Cream user) you may already know. "In Brazil, fragrance is more than what we wear, it's about creating a world we love — and love to live in. We call this experience cheirosa," Sol de Janeiro explained in a blog announcing the candle. "The term in and of itself is so Brazilian that there's no one word in English that can describe it — but as many of you already know, it means to smell incredibly delicious."
And while summer may be winding down, Sol de Janeiro's new Cheirosa '62 Candle lets you cling to tropical weather just a little bit longer. Below, the brand's new addition, available on SolDeJaneiro.com now and on Sephora's website starting in Sept.