SK-II Created A Brand-New Edition Of This Best-Seller Just For Spring
Courtesy of SK-II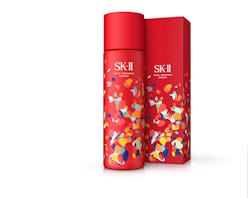 Oftentimes in the beauty world, it seems like you've got to make a choice between pro-grade products and those that look fun and pretty in their place on your beauty shelf. But why should you be forced to choose? Now you can have the best of both worlds, because SK-II's Facial Treatment Essence Spring Limited Edition features an exclusive bottle design that's as bright and colorful as the season itself — and it's the splurge you should definitely consider this spring to spruce up your shelf (and get your best skin ever).
Over the past few decades SK-II has developed a dedicated fan base thanks to its range of luxurious, effective skin care that's known for creating that flawless, glass-like complexion. And at the center of this skin care range is SK-II's Facial Treatment Essence, a product used by everyone from everyday beauty buffs to supermodels (Behati Prinsloo is a fan, and current SK-II spokesperson). If you haven't used the Japanese brand's legendary essence before — or any sort of facial essence, for that matter — here's what you need to know.
SK-II's iconic essence, which has a formulation that's remained nearly unaltered since its creation over 38 years ago, is like a luxurious, long drink of water for your skin that delivers fast-acting conditioning and hydrating ingredients to your face with just a few drops patted into skin per day. The superstar of SK-II's essence is PITERA™, a compound of over 50 micro-nutrients that comes from fermented yeast and makes up over 90 percent of each bottle. The complex blend contains amino acids, vitamins, minerals, and organic acids that boost the skin's moisture barrier, and tone, firm, and brighten your complexion for a seriously glowy, fresh face.
It's so good in fact that celebs like Chloë Grace Moretz used the essence ahead of Monday's Met Gala before applying a face of affordable drugstore brand makeup. So to celebrate the power of PITERA™ this spring, the cult-loved Japanese skin care brand is unveiling a very limited-edition version of its bottle that features an artistic representation of the hero ingredient.
The Facial Treatment Essence Spring Limited Edition, which retails at $229, takes the typically simple and sleek translucent bottle and brings it to the next level. The exclusive all-red container is peppered with pretty, vividly colored confetti pieces and petals, to signify the explosive power of the essence's superhero ingredient. The bold colors are decidedly reminiscent of spring blossoms, and will have your vanity looking as bright and healthy as your skin. (Here's a hint: snag a bottle for your mom too, for a lovely and luxe Mother's Day gift).
It doesn't look like the seasonally-appropriate bottle is live on SK-II's site just yet, but with a release date of May 2019 it's safe to say it should be arriving online and hitting store shelves soon, so be sure to check back to snag a bottle for yourself. And don't wait too long, because this bottle's availability will be as fleeting as spring itself.