Chloë Grace Moretz  Used $6 Foundation For Her Met Gala Look
Neilson Barnard/Getty Images Entertainment/Getty Images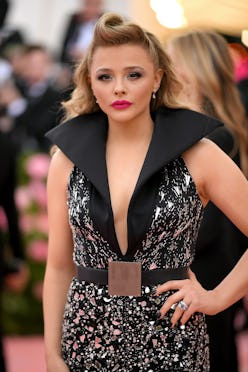 While this year's Met Gala was chock-full of over-the-top glam, there were definitely some looks that felt not only approachable but downright achievable. One such look belonged to Chloë Grace Moretz, whose Met Gala beauty look was courtesy of one very popular (and very affordable) drugstore brand.
The actor, who's known for her no-fuss beauty hacks, donned a colorful, whimsy, and almost space-like complexion to complement her embellished, futuristic Louis Vuitton dress, courtesy of makeup artist Mai Quynh for e.l.f Cosmetics. Moretz's overall retro look read very Judy Jetson, with her hair pulled up half way in a throw-back twisted pompadour, her eye makeup a smoky silver, and her lips a bright fuchsia. Every single product on her face was e.l.f.
"I was inspired by the Supermodels of the 90's," said Mai Quynh in a press release. "I wanted the eyes to be the focus of the face by making them dramatic and smoky while pairing them with a super bright pink lip."
For those who may not be familiar, on the spectrum of drugstore makeup brands, e.l.f. is on the more inexpensive end of things. For reference, face makeup will run you between $5 and $10 while skincare will cost you no more than $15. For Moretz's colorful look, Quynh employed the $6 Flawless Finish Foundation, $14 Hit Wonders Eyeshadow Palette, and $3 Velvet Matte Lipstick, to name a few. Of all the products used on the actor's face, the eyeshadow palette had the highest price point.
If you're interested in getting the look for yourself, here's a quick crash course, courtesy of Quynh. First prep the skin with primer and apply foundation and concealer. For some light definition, Quynh recommends using bronzer under the cheekbones and highlighter above, with blush dusted on the apples of the cheeks. For the eyes, Quynh used the Eyeliner/Shadow Stick in Black Smoke and the "Element" shade from the e.l.f. palette on the lids and lined them with Stardust Glitter Eyeliner in Sparkling Silver. Rim the inner eye with No Budge Retractable Eyeliner in White. Finish off the look with mascara and the matte lipstick in Fuchsia Fantasy. With that, you're good to go.
Moretz's Met Gala makeup just goes to show you that a great beauty look doesn't need to burn a hole in your pocket. There are plenty of incredibly inexpensive products on the market that are as effective as they are affordable. To help you get started on getting this look (and countless others), ahead you'll find all the products used for Moretz's stardust-y masterpiece.