Chloë Grace Moretz's Go-To Facial Cleanser Is Not Actually A Cleanser
Alberto E. Rodriguez/Getty Images Entertainment/Getty Images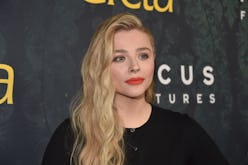 For many, skincare routines are where you really allow yourself to indulge. You invest in pricey cleansers, serums, moisturizers, and masks and go through a 10-step program daily to keep your skin in tip-top shape. While there's absolutely nothing wrong with this thorough approach (taking care of your skin is always a good thing), it is possible to give your complexion the royal treatment with just one or two products. Case in point: Chloë Grace Moretz's skincare routine, which is all of two steps. Oh, and one of her go-to items isn't even technically a skincare product. Intrigued?
The actor, who struggled with cystic acne in the past, recently revealed the secret to her glow is two-fold — and very surprising. "Completely bare bones is the idea [behind my beauty routine]" Moretz says to The Zoe Report. "I use olive oil to wash my face and the Pitera Essence from SK-II. Those are my two products, and one of them you can get at Whole Foods!" Yes, you heard that correctly: olive oil. While the cooking ingredient's beautifying benefits are not exactly news, the oil's role as a stand-alone cleanser (as opposed to a supplementary moisture-retaining solution or pre-cleanse makeup remover) is for some.
In fact, many might wonder how exactly that works, since oil can be difficult to remove without the help of a second cleanser or agent. "Olive oil is pretty thin in substance," says Moretz. "It doesn't cause breakouts or clogged pores, but it is an oil, so it opens up the pores to clean out the bacteria from the base and it helps moisturize your skin. You just have to put the oil on and wipe it off with a wash cloth. Then keep repeating this until your cloth is only showing olive oil and not makeup." That's right, no water necessary here.
And while serums and moisturizers are obsolete here due to olive oil's ultra-hydrating benefits, Moretz doubles down on nourishment via SK-II's signature Pitera Essence (of which she's a spokesperson). "The great thing about the essence is that it's an easy product to use," explains Moretz. "You don't need to use any complicated utensils or even cotton swabs. You just need your hands. And it really is this miracle bottle that works so well. It blocks in the moisture, creates a barrier from external elements, and rejuvenates your skin."
Moretz goes on to explain that her tapered-down routine came into play after years of hunting and testing products to treat her own skin issues. "I had cystic acne for years and one of the big recommendations my facialist offered was to stop depending on all the products I was using daily," says Moretz. "[...] I used to apply all the different spot-control formulas and heavy toners that I believe are too aggressive. They pull the oil from your skin and cause your skin to overcompensate with more oil, which leads to super-clogged pores, cystic acne, and so on. Drying out your skin is only exacerbating the issue. So I started doing the olive oil and my skin improved!"
In fact, the now-enlightened Moretz takes on the topic of skincare application in her latest campaign with SK-II — and having some fun with it while she's at it. The actor participated in the brand's entertainment web series, Bare Skin Chat, alongside daytime host and actor James Corden, taking an obviously lighthearted and hilarious approach to beauty. (If you want a giggle, check out the latest installment below titled "So You Think You Can Pat.")
It seems, when it comes to skin issues, Moretz is having the last laugh, and you can, too. Give the star's regimen a whirl for yourself by shopping her hero products below.