14 Valentine's Day Gifts For Friends That Aren't Romantic, But Still Really Sweet
Boy Smells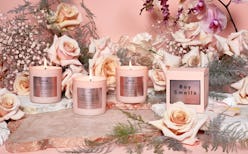 Remember passing out Valentine's Day cards in school as a kid? Although receiving one from your crush was thrilling (for the entire week you were in love with them), the truly important cards came from your best friends. Those handwritten declarations of friendship were the ones you taped to your bedroom mirror and kept in the clear front sleeve of your geometry binder. While you and your friends have probably swapped homework binders for Bullet Journals, you can still give sweet Valentine's Day gifts for friends to proudly display somewhere just as special.
But you do need to strategize a bit. Buying a meaningful gift for your significant other (aka the person you probably know the best and spend the most time with) is easy — and most Valentine's Day-adjacent product launches are either romantic, covered in hearts, or both. Not all, though. Lucky for you and your friends, this season's limited edition Boy Smells candles are perfect for all the loved ones in your life. Minimal but still Valentine's Day-themed, the blush pink candles retail for $34 apiece and come with shiny, reflective pink labels.
When in doubt, get your friend that thing they desperately wanted and talked about for months... but may have promptly forgotten about while waiting for a restock. Caution, though: unwrapping the Réalisation leopard print skirt ($180, and conveniently in stock) may make your friend suddenly rethink all of their Valentine's Day date night outfits.
If you're drawing a blank on what your fashion-minded friend had on their wishlist, Net-A-Porter still has those pretty International Women's Day Chloé shirts. Originally $495 but now on sale for $247.50, the cotton T-shirt has a silk pocketed decorated with embroidered Femininities necklace silhouettes. 100 percent of the collaboration's profits are donated to Women for Women International, too, a nonprofit that assists female war survivors and those living in countries affected by war.
Valentine's Day is all about treating the ones you love — so why not include your platonic special someones, too? Below, 14 Valentine's Day gift ideas that aren't romantic, but will show your best friends just how much you care.