Shay Mitchell Is Pregnant — And Her Announcement Was Flawless (Of Course)
Dia Dipasupil/Getty Images Entertainment/Getty Images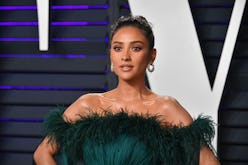 Congratulations and virgin cocktails are in order for Shay Mitchell, who announced her pregnancy today on Instagram. This will be the first child for the actor — who's been very public about suffering a miscarriage just five months ago — and her boyfriend Matte Babel.
Mitchell's announcement included a stunning image of the Pretty Little Liars actor topless, with her arms crossed above her baby bump. Her glowing complexion and sleek top knot were complemented with a pair of silver shell statement earrings that grazed her shoulders. Accompanying the perfect image was the cheeky caption: "Does this mean I'm allowed to drive in the carpool lane at all times now?"
In addition to her Insta post, Mitchell took to her YouTube channel to discuss the challenges of keeping a pregnancy private while in the spotlight. In a video blog title "Guess Who's Pregger's?" the actor says, "When you're in the public eye, there are some things you want to keep a secret until you feel ready. This for me has been the hardest."
The candid video includes footage of theYou actor telling her friends and family about her pregnancy and even takes viewers to a doctor's appointment in which Mitchell is shown an ultrasound of her baby. "Months of hiding, it's been a really lonely journey," says the actor in the video. "I think pregnancy is awesome for the most part, but it's also really f***ing lonely."
From information gathered on the video blog, it appears the actor is about six months along in her pregnancy. The sex and due date of the baby, however, have not been announced or even hinted at. Judging from the way the actor has played her pregnancy so close to the vest, she'll most likely take her time divulging those details, as well.
One thing is for certain, Mitchell is definitely ready to celebrate this new addition — starting now. "I'm extremely confident now," she says in the video blog. "I have my baby growing inside me [...] This is real life and I want people to come along with me on this journey in real time."
It's safe to say the next few months will include some seriously chic pregnancy style, courtesy of Mitchell and fellow mommy-to-be, Blake Lively (who's been pairing old-school sneakers with her bump lately) and Keira Knightley, who announced her pregnancy a couple months ago. Stay tuned on all the pre-baby outfits to come, as they're bound to be good.