Scarlett Johansson's Pink Miu Miu Outfit Took More Than A Month To Design
Tristan Fewings/Getty Images Entertainment/Getty Images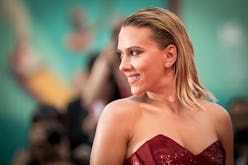 Nowadays, fashion seems to be getting a whole lot more elaborate. For any major red carpet outing, the question "How long did your outfit take to make?" is just as essential as "Who are you wearing?" — and oftentimes, the answer to the former is shockingly long. Elle Fanning walked down the Cannes Film Festival carpet in a '50s-inspired look that took a whopping 450 hours (yes, hours) to make. Chiara Ferragni's Dior dress at the Venice Film Festival beat out Fanning's, taking a jaw-dropping 700 hours to complete. And while it's unclear exactly how many hours it took to make Scarlett Johansson's pink Miu Miu outfit, it's yet another example of the intricacies that go into the making of a standout celebrity red-carpet look.
The celeb event circuit is heating up right now — and Johansson is the latest to prove her prowess for making an exceptionally strong red-carpet outing. On Oct. 15, the actor attended the premiere of her latest film project, Jojo Rabbit, which is set to be released in theaters everywhere on Oct. 18. The movie's leading ladies (Rebel Wilson, Thomasin McKenzie, and Johansson) all turned out in their best evening looks for the L.A. showing on Tues. — but there was something especially striking about the latter's ensemble.
Johansson arrived at the American Legion Hall Post 43 on Tues. evening looking like a mod '60s goddess in a custom baby-pink Miu Miu look that consisted of a top and matching trousers, both of which were embellished with flower and crystal embroidery that sparkled in the best way.
Just a quick glance at Johansson's stunning custom creation, and you're probably left speechless. But you'll come to appreciate it all the more when you take a deep dive into what it actually took to design it (hint: many hours).
Johansson's stylist, Molly Dickson, took to her personal Instagram to give a bit of background into how the actor's '60s-inspired Miu Miu set came to fruition.
"We started working [with] the Miu Miu team over a month ago, going back and forth to find the perfect fabrics, embellishments, etc.," Dickson wrote in the caption. She continued, "And I couldn't be more happy + proud of how the final look came to life from the sketch. Thank you @veesback @ctsboyle @preia @miumiu for making our dream '60s mod look!!"
It's safe to say everyone else is also quite pleased with the look — and it earned Johansson a spot on this week's best-dressed list. Is anyone else excited to see what she has in the works for awards season? Stay tuned!