This Jane Birkin-Approved Bag Is The Must-Have For Summer
Globe Photos/Shutterstock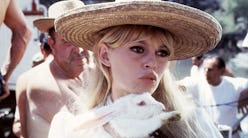 Summer style is at its best when the effort necessary is at its least. To that fact, the strongest warm-weather outfits almost always involve a non-fussy approach to dressing, complete with breezy separates and simple, stylish accessories. Though there's plenty of current-day inspiration to soak in, infusing your outfits with a hint of nostalgia can offer a unique alternative. Look back to the iconic summer fashion choices of 1960s style icons, and you'll see that easy and sophisticated don't have to be mutually exclusive. In fact, by opting for a few key retro-inspired accessories, you can transform your entire seasonal aesthetic.
During the '60s, imaginative women — poets, singers, and actresses alike — defined the decade with their boundary-pushing personal styles. They wore paisley, minidresses, and Go-Go boots — trends that challenged the more ladylike designs of the first half of the 20th century. Easygoing accessories replaced fussier high heels, gloves, and evening bags. The summery straw bags of Jane Birkin and other groovy baubles like statement necklaces and oversized sunglasses helped to define a new era. Ahead, see how you can let these 1960s style icons inspire your own summer accessories and shop the ones you don't already own to get going on your next warm-weather masterpiece.
Natalie Wood: Clear-Lens Sunglasses
Opt for a pair of sunglasses with lenses that are slightly see-through, like Wood's. Since the sun tends to set extra late in the day this time of year, these lenses are a transitional piece that can add to your ensemble even as the sun sets.
Eartha Kitt: Leather Sandals
Leather sandals may seem like an obvious summertime staple but Kitt proves they can dress up resortwear just as effectively as a pair of heels — if not more. Wear yours with a breezy top and slacks for a weekend look that's polished but easygoing too.
Twiggy: Boho Scarf
If you're heading from beach to bar and want to quickly feel polished, knot a printed scarf in your hair, like Twiggy. It looks subtly bohemian and can also help tame your salty, wind-swept locks.
Jane Birkin: Straw Basket
What 1960s style icon roundup would be complete without a reference to Birkin's signature straw bag? You don't need to be on your way to a picnic to embrace this summery piece. In fact, many brands are reinterpreting straw and raffia in fun and polished ways.
Diana Ross: Statement Jewelry
You may forget about your jewelry once summer's hottest temperatures come about, but as Ross proved with her imitable taste, the simple addition of a statement necklace is oh-so-effective.
Jean Shrimpton: Weekender Bag
You'll hopefully be heading out of town a weekend or two this summer so be sure to invest in a sleek weekender bag like Shrimpton's. Grab one in a neutral hue and get it monogrammed to make it even more stylish.
Anita Pallenberg: Concho Belt
Give your style a dose of with-the-band cool and grab a metal belt, like Pallenberg's concho one or a western-inspired version. Cinch it through a pair of shorts or over a crochet dress for relaxed ease.
Brigitte Bardot: Woven Boater Hat
Reach for a straw boater hat to give your look a south of France-inspired finish. Just add your favorite sunglasses and a little white dress.