This New Redken Hairspray Is Perfect For People Who Hate Strong Fragrances
Redken/Instagram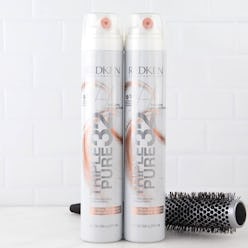 If you spend time in front of the bathroom mirror most mornings crafting any kind of hairstyle, it's fairly safe to assume that a handy bottle of hairspray is one of your best friends. But as with any relationship, there are compromises to be made. Hairspray that actually does its job on your sleek chignon or sexy waves can often lead to a crunchy, straw-like texture as it coats tresses, and a healthy spritz of the stuff often leaves behind a heady aroma that follows you throughout your day. But what if you could cut those compromises all while maintaining a flawless mane? That's what Redken's new Triple Pure 32 Hairspray promises to do.
When it comes to hair styling products in your at-home arsenal, it's often best to refer to the professionals. And many pros, from celebrity stylists to backstage hair geniuses to quite possibly your own trusted hairdresser, rely on Redken. The long-loved line of hair essentials is constantly coming up with groundbreaking formulas that address your most common hair needs — and its newest launch is a true game changer that's set to change the way you think of hairspray for good. Seriously.
Redken's freshly-dropped Triple Pure 32 Hairspray, $24 and now available at Ulta, more or less takes everything you think you know about hairspray and turns it on its head. Similar to Redken's Triple Take 32 Extreme High-Hold Hairspray, which boasts a 4.4-star rating on Ulta, this new iteration offers a high-hold strength that's fit for spritzing directly onto any hairstyle for stay-in-place, humidity-resistant power without the crunchy texture or tacky residue. Plus, it's fitted with Redken's patented tri-acuator applicator, which means an incredibly fine and even mist every time.
But the thing that makes this new hairspray from Redken stand out, aside from its highly Instagrammable white and rose gold packaging, is its neutral fragrance. Formulated to be much less noticeable than traditional hairsprays, Triple Pure 32 is ideal if you hate when misting your hair leaves your head in a cloud of overpowering aroma (sudden sneeze attacks are less than enjoyable), or if you'd rather your holy grail fall fragrance be the only scent that lingers when you walk out of a room. Maximum hold with minimal smell is officially a reality.
Done compromising when it comes to your hair styling kit? Stock up on Redken's fresher, cleaner hairspray alternative, below. You probably won't ever look back.