5 Easy Wardrobe Staples Every EmRata-Inspired Closet Needs
Philip Vaughan/ACE Pictures/Shutterstock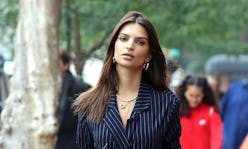 Though her Instagram bio labels her as a "model, actress, feminist, designer," it's just as crucial to note EmRata's place as a style icon. The model takes to social media to showcase her swimsuit line, runway looks, magazine covers, and travel adventures, but fans can't help but fall in love with her subtle street-style outfits. Thanks to a few key pieces, recreating Emily Ratajkowski's style isn't as hard as you'd think. In fact, with attention to the model's must-have items, enhancing your personal style is easier than ever. Ahead, explore some of EmRata's signature looks, the styling behind them, and the pieces you'll need to recreate them all on your own.
Vintage-Inspired Tops
Ratajkowski's wardrobe is filled to the brim with vintage-inspired crop tops. Whether they're actual retro gems, reworked pieces, or new items that are made to look nostalgic, throwing on a graphic tee adds a hint of edge to any relaxed outfit.
Pay homage to your favorite band, television series, or old-fashioned soda pop with a comfy staple like a t-shirt or long sleeve. Dress it up by layering it under a velvet blazer or try something more informal by pairing your graphic t-shirt with distressed denim, cuffed shorts, or athletic leggings.
Layered Gold Necklaces
Followers often notice a few key details in the the model's captivating collection of selfies, including her gleaming skin, tousled hair, and stacks of gold necklaces. While her style often leans toward the minimalistic, Ratajkowski loves to pile on the sparkle when it comes to her necklaces.
From chunky chains to delicate diamonds, her neck is routinely decorated with just the right amount of glitz. It's likely you already have a few gold necklaces hanging on your jewelry stand, practically begging to be stacked and layered. If not, it may be time to kickstart your collection with a few EmRata-inspired additions.
Statement Boots
A recurring trend in many celebrity closets, statement boots are a one-step way to elevate an entire outfit. Leather booties and sleek sock boots are still completely on-trend, but their taller, slouchier counterparts have proven just as popular over the past few months. EmRata was photographed wearing a pair of bright-red knee highs while enjoying a cup of coffee last year, as well as a tall snakeskin pair during Milan Fashion Week in Sept.
High-Waisted Cargo Pants
Besides being a practical way to carry your necessities sans overfilled tote bag, cargo pants are a retro style worth experimenting with. Wear them for your next weekend wine date with a cropped t-shirt like EmRata herself, or incorporate them into a more professional look by pairing them with a satin button-down, suede pumps, and a faux-fur coat.
Mini Dress
Jumping on the suit bandwagon doesn't have to mean adding menswear to your closet. In fact, EmRata's favorite way to wear the trend is actually quite feminine. A blazer dress can be layered over a long sweater for a more conservative look, as seen on Ratajkowski, or worn on its own for a night out.
Blazer dresses are all over the market in a wide range of colors, prints, and silhouettes, which means your perfect version is out there. All you have to do is start shopping.