How To Wear A Crop Top In The Winter Without Compromising Warmth
Julien Boudet/BFA/Shutterstock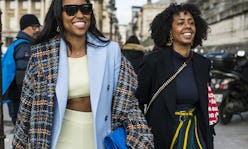 I'm about to say something divisive, but it wasn't until I learned how to wear a crop top in the winter that my midriff really became a part of my style repertoire. My aesthetic has never been modest, per se, but I used to be of the belief that stomach-grazing tops were too youthful to incorporate into my everyday looks — especially my work-wear lineup. This season, everything changed when I met my match-made-in-sweater heaven: the cropped cardigan.
I thought I had officially bid farewell to cardigans when I grew out of my childhood wardrobe, but if 2018 has proven anything, it's that the throwback style is well-worth a revisit. With street-style stars like Bella Hadid as my inspiration, I purchased a wool, cropped, and super luxe cardigan and set out on a mission to work it into my winter wardrobe.
I know what you're thinking: Why the hell would you wear a crop top in the dead of winter? As I found out, the key to styling any summer staple during the colder months rests entirely on layering. In addition to wearing a sleek blazer under my trusty wool coat, I've also made it a rule that I pair my crop tops with super high-rise pants. Showing just a touch of midriff makes the look read less weather-confused, though I admire the likes of Emily Ratajkowski and Cindy Bruna who brave the cold with their stomaches fully exposed.
If piecing together a winter outfit with a crop top as the focal point feels a bit out of your wheelhouse, allow me to guide you. Shop my version of the perfect, 10-piece outfit you can wear throughout winter and beyond. Consider yourself warned: Once you try the 2018 version of the crop top, you'll wonder what took you so long to come around.
Cropped Cardigan
It's usually the most simple pieces in my closet that get the most action, as evident by my new-found obsession with cropped black cardigans. This one by Alaïa isn't anything like the cotton sweater your mother stuffed you into for family photos, thanks to a super-soft wool blend that feels inherently luxe — and, you know, the label. Plus, the hemline is just cropped enough: You'll get a good amount of midriff with high-waisted jeans, but you won't have to worry about your bellybutton peeking through. Pro tip: To make the sweater really look like a top, I leave only the bottom button undone.
Lacy Bralette
Although my winter crop tops are definitely on the longer side, I still run the risk of subtly exposing my bra when I raise my arms. To make the slip-up look intentional, I layer my crop tops with a pretty, lacy base like an & Other Stories bralette.
Sleek Layer
My body temperature runs hot throughout the day (shout out to my office's blaring heat), which means cropped sweaters are the perfect layer for my days spent mostly indoors. But during my commute, I like to throw on an extra layer underneath my coat, like a classic plaid blazer (I'm biased toward Anine Bing's). Not only does it keep me warm as I'm walking to the subway, but it acts as a sleek and polished addition to my outfit should I need it inside.
Wool Coat
This wool coat by Aritzia has been my ride-or-die piece throughout fall and winter. The longline silhouette keeps me toasty on cold days, but it gives me more shape than my dreaded, full-length parka (which, unfortunately, I can't avoid during the snow). The best part? There's plenty of room for layering, which comes in handy on my crop top days.
High-Rise Pants
I said it once and I'll say it again: High-waisted pants are crucial when elevating a crop top. My closet is embarrassingly full of jeans, but this wide-leg pair by DL1961 fits so damn well (read: loose and fitted in all the right places).
Platform Boots
Although I wear all-black outfits like its my job, I can't help but finish off my look with a touch of color, even if its another neutral. Miista's croc-effect boots do just the trick — the rich, mahogany hue is a slight (and safe) departure from my lineup of black booties, and the texture is somewhere in between trendy and classic.
Dainty Choker
Since I wear my cropped sweater buttoned up to the top, I like to keep my necklaces super minimal. This Meghan Markle-approved line has the perfect assortment of minimalist jewelry, and I've worn this dainty choker every day since I got it.
Claw Clip
Come wintertime, putting any effort into my hair feels like a major accomplishment. This claw clip adds the perfect finishing touch to my outfit, and creates the illusion that I know what I'm doing with my hair.
Thick Hoops
It's rare that I leave my apartment without a pair of gold hoops — the simple accessory is more or less my signature look. Lately, I've parted ways with dainty silhouettes for thick ones, like this celeb-favorite pair by Jennifer Fisher. I'm not kidding when I say I get compliments on these hoops every time I wear them.
Moody Lip
A '90s-inspired outfit requires a moody lip, right? One swipe of this cult-favorite hue by Bobbi Brown leaves my lips with the perfect blend of pink and red (and it's moisturizing, too).