Lucy Hale Wore Meghan Markle's Favorite Jewelry Line & Styled It So Differently
MediaPunch/Bauer-Griffin/GC Images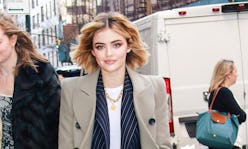 Since Meghan Markle's heart signet ring launched a worldwide obsession in Oct., people have been swooning over the brand behind it. Missoma has coined contemporary and affordable jewelry that goes far beyond its aesthetic. There's a story behind just about every accessory made by this brand, including Lucy Hale's gold necklace.
The actor dressed to impress for her appearance on Good Day New York on Weds. The 29-year old opted for a super sophisticated look, pairing a long menswear-inspired gray coat over a navy-blue pinstriped two piece. The suit set included a long blazer and wide-leg trousers.
She wore the outfit with white pointy-toed heels and chunky gold jewelry by Missoma. Like Markle, Hale sported a diamond-adorned signet ring. While the royal's was decorated with an open heart — representing love, passion, and friendship — Hale's was insttead engraved with a witchy evil eye.
The 18-carat gold vermeil statement ring is "believed to protect against evil and ward off negative energies," according to the brand. In addition to the ring, Hale draped a gold necklace by the brand over her white tee. And if you take a close look at the pendant hanging from her chunky rope chain, you'll discover that there's plenty of meaning behind it, too.
Let's just say you're going to want to make room on your wish list for a Body Language Initial Necklace of your own. The personalized pieces are designed by artist Fee Greening and feature "supple figures [spelling] out the alphabet in elegant and surprising ways," Missoma's website says.
"Each pose looks natural, the bodies offering poetic stories that show beyond the letters they form."
The actor's featured an "L" formed with one body standing and another sitting upright. They're available in gold for $97 and silver for $72.
Other famous fans of the London-based jewelry brand include Kaia Gerber and supermodel mom Cindy Crawford, Margot Robbie, and Vanessa Hudgens. In the past, Gerber has flashed her Amazonite Mini Charm Pyramid Hoops with slicked-back hair. Hudgens, on the other hand, sported the Octagon Medallion Coin Necklace from the line's Roman collection.
Missoma offers an array of motifs for every interest: Cosmic for the celestial-obsessed, Geo for the nature lover, and Fashion Me Now blogger Lucy Williams' designs for the nomadic soul. And if none of the aforementioned strikes your fancy, you could always opt for something even more symbolic thanks to the brand's custom engraving.
This is the jewelry label that makes playful costume jewelry chic. Lucky for you, it's so affordable, too. Start by shopping Hale's latest accessories, ahead.
Shop Lucy Hale's Jewelry