Queen Letizia Has Worn This Sleek Wrap Coat For 15 Years (& It's Easy To See Why)
Carlos Alvarez/Getty Images Entertainment/Getty Images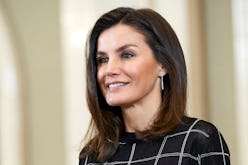 It's safe to say that the robe silhouette has fully taken over chic outwear. Plaid, neutral camel, and shearling have all had their moments, but now wrap coats are all the rage and Queen Letizia was the first to call it. The Spanish royal has kept hers in rotation for more than a decade.
The long, slouchy robe coat was on trend long before Kendall Jenner, Gigi Hadid, and Kim Kardashian started wearing it. In fact, the style has been a staple in winter fashion throughout history — dominating coat trends of the '20s and '50s — and modern-day adaptations are proof that it's not going away anytime soon.
Queen Letizia is pretty good at predicting these things, so she kept hers tucked away in the back of her closet for more than a decade, just waiting for the right moment to wear it again. That moment came on Thurs., during her visit to the opening of an art exhibition in Burgos.
The royal wore a simple white button-front blouse tucked into a pair of tan, tie-waist culottes — both by Hugo Boss — and layered up with a dual-tone coat that only a true Queen Letizia fan would have recognized from 14 years ago.
Her trusty jacket is ivory with a pop of beige, featuring notched lapels, sleek flap pockets and a single button, but Queen Letizia prefers to keep it closed up via the tie belt. She first debuted it at the Barajas Airport ahead of her official visit to Brazil back in 2005.
This is one timeless number that Queen Letizia can't seem to part with, and you can see why.
The wrap silhouette has signified elegance and sophistication for an entire century, albeit it has taken a few hiatuses. Nevertheless, you'll find fellow royals Kate Middleton and Meghan Markle living in the style these days.
The value of Queen Letizia's classic coat didn't escape her 14 years ago, so take a tip from Her Majesty's royal style book and get yourself one that'll still be relevant decades from now.
Shop The Look