Queen Letizia Has Worn This Zara Jacket For Years — Here's How She Styles It
Carlos Alvarez/Getty Images Entertainment/Getty Images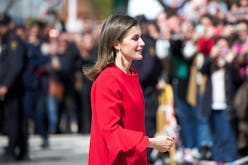 Like Kate Middleton and Meghan Markle, Queen Letizia is another royal who loves a bargain. And when she finds something she likes hanging on the rack at Zara, she isn't afraid to wear it over and over again. In fact, Queen Letizia's black military jacket has been a staple in her wardrobe for years.
On Wed., the royal attended a meeting with the Foundation Against Drug Addiction in Madrid wearing the ultimate power outfit. She sported a white Hugo Boss blouse under the most stylish blazer by your favorite bargain brand. Actually, Queen Letizia has been wearing her Zara military jacket for years.
The super polished number features embroidered passementerie detail on the front, a velvet high collar, and sleek gold-toned buttons. In 2016, Her Majesty wore the same jacket with a black tee and gray pants during her visit to Portugal.
This time, she went low-key, layering it over an untucked white blouse, pencil-leg trousers, and her usual black pumps. She wore her hair down casually and accessorized with earrings by another brand she loves, Gold & Roses.
She also traded out the super-stylish Parfois handbag she carried with the jacket last time for a mini briefcase accessory. Clearly, the Queen was ready for business.
Her latest look is proof that you need to add a military-style jacket to your wardrobe immediately. It's the perfect alternative to your classic work blazers and light jackets, and if Queen Letizia says it's on-trend, then certainly you can sport one, too.
Unfortunately, the royal has held onto her $169 piece for so long that it's no longer shoppable. No need to panic, though, because The Zoe Report has rounded up a few that are just like it to inspire your Queen Letizia look.
Shop Military Jackets