PUR Created A New Skincare-Friendly Foundation — & It Comes In A Whopping 100 Shades
PUR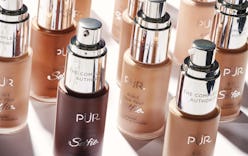 According to the brand's website, 95 percent of users who tried PUR's 4-in-1 Love Your Selfie foundation thought it was easy to use. 92 percent said it concealed redness, discoloration, and blemishes — because not only is it a foundation, the product also acts as a concealer. 90 percent said it felt comfortable to wear on their skin; something that can be just as important as how a foundation looks. And yet, you still may already be writing it off as a product that won't work for you.
That's because, as you undoubtedly know, many new, exciting foundation releases don't cater to a diverse — and realistic — range of skin tones. But if you thought PUR would be another disappointment, luckily, here's some good news: The new 4-in-1 Love Your Selfie foundation launches April 19 and includes a range of 100 unique shades. Once again, what inclusivity means when it comes to a makeup shade range has been expanded and elevated — hopefully forcing any beauty brands left in the dust to play catch-up.
And no, before you ask, the range isn't 90 shades of beige, either. PUR broke up the 100-shade range into five separate categories: Light, Medium, Tan, Dark, and Deep. Each category contains a total of 20 shades, and each shade includes a note on its undertones.
It's a major upgrade from PUR's previous shade ranges, too, without imposing an additional cost to consumers. Like PUR foundations before it, the new 4-in-1 Love Your Selfie foundation retails in the $30 range ($36, to be exact) and offers PUR's 4-in-1 promise; in this case, the naturally matte foundation doubles as a concealer, boosts your skin care, and promises to be long-wearing.
PUR also packaged up the unique, multitasking formula with an even more unique applicator to let users get the best results. The foundation includes your typical pump at the top, but if you unscrew the lid, you'll find a hidden doe foot applicator; you can use that to dot the formula onto blemishes or apply it to areas you need a precise hand.
And don't forget about those skincare benefits, too. The new foundation is a cocktail of skin-loving superheroes, like green tea, ginseng, and vitamin B. The foundation basically acts as an additional step in your skincare routine — PUR claims it will tone, smooth, and protect skin as you go about your day.
Ready to find your perfect shade match? Ahead, PUR's new 4-in-1 Love Your Selfie foundation.