This K-Beauty Product Has More Than 3,500 5-Star Reviews & Works Wonders
Sephora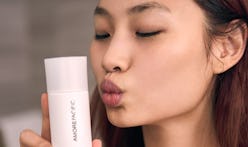 K-beauty is known for blurring the line between skincare and makeup. It's 2019 after all, why should you have to pick between hydrated, healthy skin and a great makeup look? Likewise, so many of the cult-favorite K-beauty products at Sephora refuse to pick either, and even bridge gaps you may've not known you had between your skincare and makeup routines.
Take a look at the LANEIGE Lip Sleeping Mask to see that for yourself. From a quick peek at its page, you may agree that a mask for your lips is inarguably handy, especially during the winter; you apply the balm before falling asleep and let the vitamins, antioxidants, and hyaluronic acid seep into chapped lips overnight. But between choosing a $20 lip mask and a $2 chapstick somewhere else, you may end up whisked away to other corners of Sephora's website.
That's where the beauty community comes in. Over 3,500 shoppers have left perfect 5-star reviews for the lip mask on Sephora's website, making it known to all shoppers that this lip mask doesn't just help chapped lips — it's vital to makeup application. Reviewers note that the mask not only eliminates the need for other products like lip exfoliators, it creates a smoother canvas for future lipstick applications.
So while you are spending a little more on a mask than on a drugstore chapstick, you get that much more in results; and since you use the balm at night, it's less likely you'll lose it somewhere in your purse. (Plus, reviews say that one lip mask container will last forever.)
Once you transform your lips, other K-beauty products are on-deck to make the rest of your face ready for makeup. The AmorePacific Treatment Enzyme Peel and Saturday Skin Rub-A-Dub Refining Peel Gel are fan-favorite treatments that remove dull skin. Saturday Skin's retails for $28, while the AmorePacific peel will cost you $60. Both are formulated with papaya enzymes and have hundreds of glowing reviews — the key difference (beyond the rest of the ingredients, of course) is that AmorePacific's peel is packaged in the bottle as a powder, not a gel.
Spoiler alert: You don't need to read all of the reviews at Sephora for each K-beauty product. Just keep scrolling for a list of a few favorites that will help your skincare and makeup routines sync up perfectly.