How Fashion Month Diversity Is Changing According To 4 Black Models
Tristan Fewings/Getty Images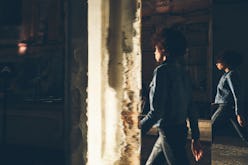 Backstage at Paris Fashion Week, at a show that shall remain nameless, I witnessed a small fire. No, it wasn't from an unextinguished cigarette or a crêpe that went up in flames... it was on a model's hair. Three assistants were tackling this poor girl's Afro, wrestling with it so that it'd lay smooth. And for some reason, the flat iron's temperature was turned up so high that smoke emitted from her strands. Thankfully, no one was hurt (though I did catch her visibly wincing as the stylist aggressively brushed her curls into a ponytail) but this instance is, sadly, one of many. Diversity in fashion might be on the upswing, but backstage displays a somewhat disappointing reality.
Editor's Note: The headline has been changed from its original "Diversity In Fashion Is Changing — But Not Fast Enough, According To 5 Black Models" to "Diversity In Fashion Is Changing — But Not Fast Enough, According To 4 Black Models" to more accurately reflect the article's reporting.
In a February 2019 report, The Fashion Spot found that 45.8 percent of the models in the New York Fall/Winter 2019 shows were women of color. That stat is fantastic — it's always encouraging to see models like Cyrielle Lalande or Sijia Kang on the runway. In Paris, Tommy Hilfiger x Zendaya used an all-Black cast of 59 models aged 18 to 70 (including Grace Jones) for the '70s-inspired collection. But many — like model Sabah Koj, who walked in Paris, Milan, London, and New York shows during Fashion Month — agree that just throwing a few brown and Black faces into the mix isn't necessarily enough. "It's frustrating when you have to sit in the chair and look for someone you think you know can work with you — other than just coming in and being able to sit anywhere," Koj tells me backstage at Ann Demeulemeester.
However, some models believe brands are already taking small steps toward making the people walking their shows feel more included. Adesuwa Aighewi (who walked 12 shows in NYC) notes that she has full confidence in allowing the stylists backstage to handle her long locs. "All of these infamous hair teams that didn't have Black stylists [in the past] — like Guido [Palau] and Duffy — made sure that they got Black girls and Black men to do hair [this season]. There actually is an effort because of all the complaints."
There are six months until the Spring/Summer 2020 shows, which gives designers ample time to figure out ways to ensure all the models they hire to show off their new collections feel genuinely included both backstage and on the runway. These five models The Zoe Report spoke to during Fashion Week have some thoughts on what could still be improved, and how to make it all happen.
"When it comes to hairdressers and makeup, they know what's happening. They've got their hands on it. That's a good thing. There's an article that I read the other day that said, 'If you don't know how to work on Black skin, you shouldn't be doing Fashion Week.' I think some people know what they're doing.
"At the same time, it's teamwork. If the stylists are doing something you don't like, [you have to communicate.] I always speak up. Everyone should speak up. It makes everyone's job easier. And if you're going to say something, make sure it's coming from the heart. Don't hurt someone's feelings. Just say 'Hey, this is what usually works for me.'"
"I just started modeling a year and a half ago. I did one show last year, and the [stylist] couldn't do my skin. After that experience, I always brought my own foundation from Make Up For Ever. They don't use it all the time... sometimes, they have your color. But then they don't know how to match it. There is a bit more diversity since last year... however, I can't really tell if there's a [huge] difference yet."
"Diversity [at Fashion Week] has definitely increased, for sure. All these infamous hair teams that didn't have any Black stylists now have Black women and men to do their hair. Usually for the Black girls, we're the last ones to be taken care of. It's been great because as a collective, everybody has been like, 'I want Black makeup artists. I want Black hairstylists.' There's something good that comes from vocalizing all that stuff.
"It's amazing now because the hairstylists come and bring my wax for my hair, which is really cool. I don't have to carry my products with me like I did before."
"[My experience backstage] is kind of the same. It's very disappointing and annoying, for example, when makeup artists don't know how to color correct. Yes, there are dark-skinned models... but we have cooler tones and warmer tones. You need to know how to work with that.
"Also, it's frustrating when you have to sit in the chair and look for someone you think you know can work with you — other than just coming in and being able to sit anywhere, knowing that someone's going to do your makeup properly and you get the proper look. With hair, they don't even look at you 90 percent of the time. You go do your hair, and then it starts looking bad. So I carry my Afro pick everywhere, and sometimes my foundation, too. I'm not hesitant to speak up, but it's just unacceptable. It's the 21st century."
"In terms of models backstage, hair has been a progress. I see many more women of color backstage. But at the end of the day, I don't know if it's done in a genuine way, because nowadays, you've got people watching every single show. And they'll tell you, 'This show only had two people of color, and that's not a good look for your brand.' It makes me think... do they really do it because [it's genuine], or do they do it to protect the brand?
"At least there is a little diversity with the models. I think with makeup artists and hairstylists, it's still the majority — white. Also, I have short hair and stylists always pass by me. I still need to moisturize my hair, still need to put some oil on it and brush it a little bit. Yesterday, for the first time, this Black hairstylist [helped] me. They moisturized me and brushed it down. We definitely need more [of that] backstage.
"I always have my own oil on me. If they have something better, I'll use it, but I always ask for oil. Sometimes my hair looks dry as hell, so I use shea butter and warm it up with my hand, and tap it in a little so it's not too shiny. I grab my little brush, then I'm good to go."