Pippa Middleton's Retro Engagement Ring Will Never Go Out Of Style
WPA Pool/Getty Images Entertainment/Getty Images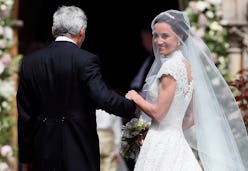 It must be difficult having a duchess as a sister, especially when that duchess has access to an iconic jewelry collection like the late Princess Diana's. It's true that Pippa Middleton's engagement ring may never outshine the colossal sapphire that'll sit on her sister's finger for the rest of her life. Even still, it's a bigger rock than the rest of us will ever wear.
Most people know the story behind the Duchess of Cambridge's engagement ring: It's a 12-carat oval sapphire surrounded by 14 diamonds set in white gold. Simply too big to miss, the ring once belonged to Princess Diana, of course, and it's been valued at $50,000.
People have been so bewitched by the marvelous gem all these years that they hardly bothered to glance over at the younger Middleton sister's ring, which is just as stunning.
In July 2016, Middleton's longtime boyfriend, former professional race-car driver James Matthews, proposed to her with an Art Deco Asscher-cut diamond that's estimated to be at least three carats in size.
The octagonal stone is surrounded by a halo of smaller diamonds. It occupies a hefty chunk of the 35-year-old's ring finger and, unlike her sister's, is colorless.
Middleton's engagement ring is what jewelers call G-color, which is "the top diamond color grade in the near-colorless range," according to RockHer Haute Jewelers. Put simpler, it's the most popular engagement ring choice.
The socialite's ring is practical, much like her sense in fashion, because it's flat and less likely to catch and snag. It has a vintage-inspired, Art Deco feel that initially made jewelers think that it came from the Tiffany & Co. collection that followed the Great Gatsby movie.
In fact, the ring was designed by London jeweler Robinson Pelham and is valued at an estimated $350,000. Thankfully, though, you don't need to spend a quarter of a million dollars for this style. Engagement rings with similar aesthetics, ahead.
Shop The Look