The $30 Wallpaper From Target That's Perfect For Commitment-Phobes
robinimages2013/Shutterstock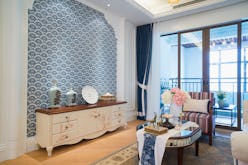 Statement walls are truly having a moment. Even minimalists with a love for neutrals are embracing an accent wall with a little splash of color or unexpected pattern play. That said, some are still hesitant to dip their toes into the wonderful world of wall color, and that's where good ol' affordable peel and stick wallpaper comes in. The easy to apply design piece offers an instant uplift to a room that can switched out as often as you want, sans guilt or buyer's remorse. And for those not in the know, rest assured, peel and stick wallpaper is much chicer than it sounds.
Yes, there's a certain aspect of dread surrounding wallpaper in general, mainly due to the fact that it seems like a lot of work to apply and remove. However, the beauty of peel and stick wallpaper is that there's not a ton else involved in terms of application tools thanks to the included adhesive backing. You literally just peel and stick to the wall or surface of your choosing. All you have to worry about is applying it symmetrically. Oh, and if committing to a pattern or color freaks you out, this non-permanent options is definitely for you.
Another thing to note is that, just because it's affordable and easy to apply, doesn't mean the look and quality of the wallpaper is going to suffer. These days, a plethora of retailers and brands are making peel and stick wallpaper that looks elevated and expensive. Everyone from Target to Joss & Main offer worthy options in all sorts of patterns and colors, appealing to even the most simplistic of aesthetics.
So if your idea of livening things up in your space involves incorporating a subtle print or texture change, there's a wallpaper for you. Try a soft floral or damask print against a beige or blush color-way to add some interest to a wall. (You can even start small and wallpaper smaller spaces like cabinets or doors to introduce the element into your home.) If you're into a bolder and more daring aesthetic, the wallpaper world is literally your oyster. Go for floral or plant prints against rich backdrops of emerald, orange, or sapphire.
You can also employ wallpaper to give the illusion of design structures and surfaces like wood, brick, or tile. Always longed for a tiled kitchen or bathroom? Grab a mosaic tile-print roll or a classic porcelain-white option. You can also grab a wood-finish print for the living room or bedroom to give your space a more rustic look without the fuss. Although it's definitely the cheater way to achieve these more expensive elements of design, what people don't know won't hurt them right?
So you see, wallpapering a wall or space in your home can be a fairly painless and quick process, if you know where to look. To help you out, ahead, you'll find 10 awesome peel and stick wallpaper options that won't cost you more than $50 a roll. Enjoy!