Peach & Lily's Black Friday Sale Has Already Begun — Here's What To Snag Immediately
Courtesy of Peach & Lily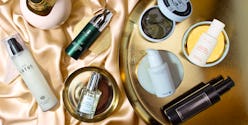 There is a reason why Peach & Lily's 2019 Black Friday sale is bound to be a hit with fans. The popular K-beauty retailer — which curates hard-to-find products and offers its own collection to boot — rarely goes on sale. But when it does, it's a big deal. Case in point: This year, Peach & Lily is offering shoppers 30 percent off select products site wide just by typing in the promo code PEACH2019 when they check out, starting Nov. 24 and wrapping up at 11:59 p.m. PT on Dec. 3.
Fans of Peach & Lily's own product line are in luck, too — even if the brand's collection is technically excluded from the site-wide discount. Snag any Peach & Lily Collection product during the sale (like the Glass Skin serum or Power Calm cleanser) and you'll receive three of its best-selling sheet masks for free. And for those curious about the details, that set regularly retails for $12.98, and comes with a Peach & Lily Good Skin Day Mask, the Peach Slices Strawberry Ice Cream Mask, and the Peach Slices Pomegranate Peace Popsicle Sheet Mask.
Of course, this means you need to start deciding which K-beauty products to grab from the rest of the site — and there are a lot to choose from. Including the not-so-hidden gems with die-hard cult followings, like LANEIGE's Lip Sleeping Mask (which normally retails for $25 at Peach & Lily, but is marked down to $17.50 during the sale).
Luckily, you have until after Cyber Monday to take advantage of the brand's discounts; although it wouldn't be surprising if some of these sell out before then. Below, six products to grab during Peach & Lily's Black Friday event.