Peach & Lily's Black Friday Sale Came Early — Here's What To Stock Up On Now
Femmue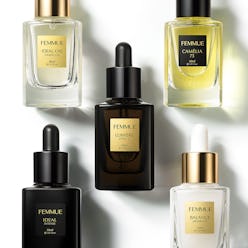 As the holidays approach, you may find yourself with a day or two off from work. Between celebrating with family and friends, put any free time to good use, and start clearing out the empty products from your medicine cabinet. With all the holiday sales happening, the time has come for out with the old and in with the new (especially if you want to make room for your new haul of products). And, with the Peach & Lily Black Friday Sale happening now, you'll perhaps want to make more space than originally planned.
Starting Nov. 19, the retailer is offering 30 percent off sitewide, with Black Friday promotions ending on Nov. 27. Using the code PEACH2018, you can stock up on everything from brightening serums and hydrating masks to luscious creams (among other items) for 30 percent off (just note that the Peach & Lily Collection is not included in the sale).
If this beauty destination isn't yet on your radar, it's likely to win you over pretty quickly with its highly curated selection of K-beauty items. All of the products are rigorously tested, and with only five percent being approved, you can shop with ease knowing that the offerings featured are top-grade products.
Not only can you shop Peach & Lily's own line of highly-coveted skin care on the site, but products from other must-have K-brands including Shangpree and Femmue. And though the Peach & Lily Collection is excluded from the Black Friday sale, you'll be happy to learn that with any order that does include a Peach & Lily product (they're hard to resist) you'll score two free Original Glow sheet masks.
For those focused on getting a deal, you won't want to miss grabbing best-selling serums while they're significantly marked down. Shangpree's S-Energy Long Lasting Concentrated Serum is a great place to start shopping the sale. Rated at 4.5 stars, the serum is praised by reviewers for being lightweight and smooth, along with its effectiveness in hydrating and lessening fine lines and wrinkles. While it usually rings in at $120, when you pop in the code PEACH2018, you can be on your way to having a radiant complexion for $84.
If you've been looking to incorporate vitamin C into your beauty routine, then may want to opt for the Femmue Lumiere Vital C Serum while you're shopping the sale. Originally $88, you'll be able to try this serum for $61.60 by using the Black Friday sale code. An ideal product for achieving that holiday glow, its ingredients work to even skin tone, brighten dark spots, and refine texture. With many reviewers writing that their skin looked more radiant after using the product, use the serum to fight off the effects of winter weather (aka dull, dry skin).
There are many more products to shop during the sale, including the Eco Your Skin Volufiline15 Eye Essence, which you'll want to snag on sale for $49 (down from $70), before the holiday parties really kick-off. Continue on to shop favorites on sale or try new products for a reduced price. You might even be able to knock a few gifts off your list for all your beauty-obsessed friends.